Find more restaurant reviews with our Google map
Rating: 8.5/10
Address: 103-113 Westhaven Drive
Phone: (09) 378 9890
Website: sailsrestaurant.co.nz
Cuisine: Modern with a seafood focus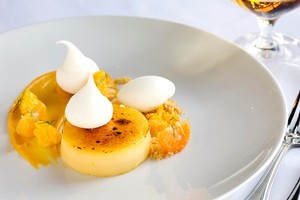 They say good fashion never shows its age. Returning to dine at Sails Restaurant for the first time in 20 years I was anticipating that it might have dated (I know I have) but I couldn't have been more wrong.
Walking up the stairs and entering the large, airy dining room was nothing short of breathtaking. Huge lampshades hang dramatically in the softly lit space of a sprawling 100-seat dining room. A wall of windows offers uninterrupted views of the marina and the magnificent arch of yellow lights from our city's harbour bridge.
This has to be one of Auckland's premium restaurant locations and on the night of our visit there wasn't an empty table in the house, making for a spectacularly vibrant atmosphere.
Valerie Littlejohn and her son Bart have been operating Sails restaurant since 1994, with a team of seasoned waitstaff, many of whom have been with the restaurant for more than a decade.
Why is this so important? It means there's a consistency and maturity in the dining room service that is reassuring and informative and being led by those so comfortable in their own skin makes for an infinitely more engaging evening than those places where the staff are young and the turnover is high.
Another great gift of a restaurant of this size is that there's a bar area where you can enjoy a pre-dinner drink before being taken to your table. I like this - it adds to the sense of occasion.
The menu is dominated by seafood, fitting given the location, and for the most part we stuck with gifts from the sea - and what treasures they turned out to be.
Starters included an extremely generous plateful of expertly prepared sashimi of the freshest salmon, tuna and snapper, brought alive with a whack of decent wasabi. On my plate were lightly sauteed prawns with two tender crab-filled choux pastry puffs and an intriguing seaweed "caviar" that lent the dish the most marvellous essence of the ocean.
The third in our dining trio had opted for the safety of salt and pepper squid but thankfully the kitchen had resisted the temptation of a common-as-muck aioli and instead a light nam jim (Thai sauce) dressing gave the dish a clean, fresh start.
With four choices of white fish and a crayfish in the lineup of mains, seafood lovers will be in heaven at Sails. My dining pals chose the john dory fillets, served skin-on and draped over a pea risotto that was punctuated with sweet prawns, and the tarakihi served with scallops and potato gnocchi. Both dishes were proof of chef Jason Blackie's talent, skill and light hand in allowing the ingredients to speak for themselves. He'd halted the cooking of the risotto at exactly the point where the grains were cooked to perfection and the flavours of the delicate herbs and other ingredients remained distinguishable from each other.
Quite simply, it hadn't had the life simmered out of it. And Blackie doesn't cook his seafood sous-vide style which is a welcome relief as I find this cooking method does something weird to the texture of fish.
I opted for the duck as my main dish, in the interests of sampling the non-seafood items on the menu. Half a duck is twice-cooked and served with beautifully crisped skin, stuffed with a date and lemongrass paste and drizzled with a thin Peking-style sauce spiked with star anise. Plentiful and gorgeous. The sweet potato blini added little but the braised cavolo nero was a satisfying and intense companion for the dark duck meat.
If any fault can be found with Chef Blackie's menu, it's that the dish descriptions sound much more complicated and confused than what ends up on the plate. His food is immensely pleasurable because of its simplicity.
An example of this was the dessert I chose. Described as "baked lemon creme, sablee crumbs, crisp meringue, kaffir lime sorbet & mandarin" I nearly gave it a miss because it sounded all too much. In fact what arrived was quite simply a plate of marvellously married citrus flavours and textures that had me in raptures.
I paired it with a calvados, a Domfrontais Reserve 04, and I loved every strong, burning sip.
Everyone from Lady Gaga to Rod Stewart to Coldplay and even numerous visiting heads of state, have dined at Sails over the years and now I know why.
Sails is like the classic little black dress - full of understated glamour and style that never goes out of fashion.
From the menu: Sashimi $22.90, prawns $24.90, salt & pepper squid $23.90, tarakihi $39.90, twice-cooked duck $39.90, john dory $39.90, sides of beets, truffle & parmesan fries $7.90 each, baked lemon creme $15.90, chocolate delice $15.90.
Drinks: Fabulous wine list & knowledgeable sommeliers to match.