Herald Rating: 4/5
Address: 55 Princes St, Onehunga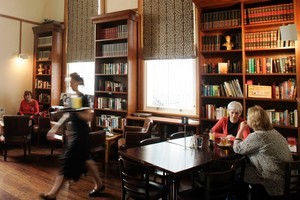 We came here because we're new to the area and had popped in for a coffee on another occasion and enjoyed it so much that we wanted to come back and sample the menu.
Parking was easy enough on the street outside.
We walked in and immediately thought we love what they've done with this old heritage building, built in 1912. There are two indoor dining areas with high ceilings and chandeliers - one fairly standard, the other a cosy "reading lounge", complete with shelves of books and games - and two choices of outdoor seating.
The most unusual thing on the menu was probably the breakfast burrito - a soft tortilla with tomato salsa, scrambled eggs, cheese, and either organic beef sausage and a hash brown ($18.50) or wilted spinach, portobello mushrooms and tomato ($18). There is also a choice of three big breakfasts - unusual in itself.
We ordered the old-fashioned savoury mince on ciabatta with two poached eggs ($19), which came with a dish of shaved cheese, and the salmon potato cakes made with hot smoked aoraki salmon served with poached eggs and homemade hollandaise ($19.50), which came with a heap of salad greens, almost as an afterthought.
Both were excellent, though the salad was a bit unappealing.
The coffee was hot, delicious, and a generous size.
The service was very friendly and professional.
We recommend if you come here you park in the reading room for a few hours - it's easy to imagine spending a lazy winter afternoon here.
Overall we thought this may become our new favourite local.