Herald Rating: 4/5
Address: 29 Crummer Rd, Grey Lynn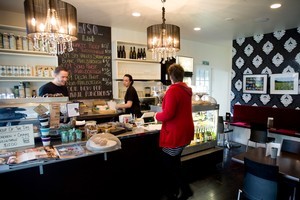 We came here because I was catching up with friends in the area and thought, where better to visit than my trusty local?
Parking was down the right-of-way off Crummer Rd, behind the cafe.
We walked in and immediately thought we'd sit outside but it got a bit chilly so we grabbed the big table at the back of the cafe.
The most unusual thing on the menu changes regularly. On our visit it was chorizo and balsamic creamed mushrooms on ciabatta, parmesan and pesto ($10 or $17) or the crushed baby potato and corn beef hash, poached egg, hollandaise and red pepper coulis ($18).
We ordered the cured salmon, capsicum and feta scrambled eggs, olives on ciabatta ($10 or $17), the creamy porridge, honey, toasted coconut and caramelised banana ($13) and the eggs benedict on an english muffin with wilted spinach, citrus hollandaise and bacon ($10 or $17). The scram with salmon was tasty but very rich (I should have gone for the smaller portion), the porridge had a lovely texture with a tropical twist and the eggs bene was beautifully presented with a trickle of pesto around the outside, and a generous pile of vital-looking spinach.
The service was super-friendly as always, and very good with Melanie's boisterous 3-year-old.
The coffee was excellent. It's not always easy to get a decent soy flat white but these guys deliver.
We recommend if you come here stay for a few hours. I often bring my laptop and work over a couple of coffees, because it's so homely and quiet, set in a renovated villa.
Overall we thought Oh! So's menu sounds fancy but there are plenty of options for taste and budget, including a "build your own" brunch for those who aren't so keen on the abundance of creamy options. Goes without saying that I'll be back.