Find more restaurant reviews with our Google map
Address: 225b Dominion Road
Phone: (09) 630 0228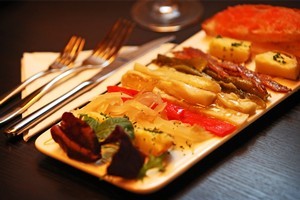 Remember Stereoworld on Dominion Rd? That bright blue place with polka dots, painted thus in retaliation for the council making them take down their signage?
Thankfully all that hoo-ha has gone, and been replaced with a tasteful cellphone outlet and a tasty tapas cafe, Serafin.
It was more cafe than bar at the time of visiting, as owner/chef Serafin Bueno was still battling a particularly pernicious neighbour over his liquor licence. (That has now been resolved and there is a range of Spanish and New Zealand wines and beer available.)
But Serafin was still more than deserving of a visit. The interior is delightful, all angled plywood ceilings, simple but effective, with gorgeous light fittings. The courtyard calls for summer and sun - well, don't we all?
But we were there for the food. And what food!
Adeline, the beautiful waitress, bustled around with water and menus, then presented us with a taster of French bread topped with shredded black pudding and apple compote.
We were sold.
But then there was a problem, as is often the case with tapas. What to order? And how much?
Patatas bravas, of course, and albondigas, which in Serafin's version come with saffron and diced squid. And pan con tomato, slices of French bread rubbed with garlic and topped with tomato pulp, delicately flavoured and delicious. The patatas also came with all I oli, the Spanish version of aioli but with a hint of tomato colour and flavour delicioso. The albondigas were all that they should be all the flavours discernible in each bite, as tapas should be.
On with the medley. Ensalata Catalana, a mix of red and green capsicums, fennel and zucchini, slow-roasted together and served at room temperature with fat anchovies atop, and plenty of good olive oil was a delight, with plenty of bread to soak up the juices.
One more? Pollo en escabeche con verduritas, slow-cooked chicken, falling off the bone, with thyme garlic and finely-chopped vegetables.
Oh, go on. Just one more. Croquetas de ropa vieja, croquettes with chicken, ham and chorizo, light and crisp and, again, each ingredient distinguishable.
For the uninitiated, tapas also come as sweet things. Crema Catalana was on offer, a baked custard with caramel, and churros con chocolate, those elongated doughnuts that require a deft hand and concentration at the fryer.
For Bill, it was torrijas, bread marinated in red wine then deep-fried and served with honey and a very good vanilla icecream. It was a generous serving, as I had said to Adeline that I would share it. It was too sweet for my taste, but perfectly suited to Bill's. He didn't seem to notice that I didn't eat much of it.
We have determined that we will return to Serafin, to attempt an assault on their paella (for two people) and arroz meloso with prawns and clams. Serafin is well worth a visit.
Rating out of 10
Food: 8
Service: 8
Value: 9
Ambience: 9
Our meal: $68.50 for six tapas and two soft drinks.
Wine list: 12 Spanish and 10 New Zealand wines as well as beer.
Verdict: A delightful space, and excellent and plentiful tapas. Come summer, more tapas and a glass of wine in the courtyard -an experience to anticipate with pleasure.