Find more restaurant reviews with our Google map
Address: 215 Dominion Road
Phone: (09) 630 6474
Website: twofifteen.co.nz
Cuisine: Smart bistro
Rating: 8/10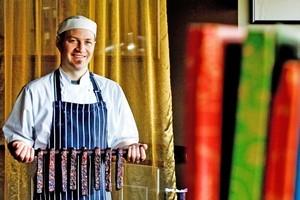 Try this - google "Auckland bistro" and see what you come up with. You may be surprised to discover the sorts of restaurants that classify themselves as a "bistro" in this town. I know I was.
To me, if a bistro is to be reflective of its French origins ("bistrot"), then it's likely to be an eating establishment that serves modest food at modest prices in a casual, non-pretentious atmosphere. So it was with these expectations that we approached Two Fifteen Bistro, where owner and chef Jeremy Schmid has managed to establish an award-winning, neighbourhood bistro on a nondescript but busy section of Dominion Rd.
Impressively Schmid makes all of his own charcuterie - which is less surprising when you remember that he's the man behind the wonderful Little Boys sausages - and we enjoyed both the land jager and house sausage that we nibbled on while waiting for our entrees. Both were smoky, dry and full of flavour with their deliciously tough skins. Our shared plateful was enough to activate our appetites but not fill us up too much.
Next came a solid performer, the pork terrine, and a more flirtatious dish of seared scallops. We noticed that neither of these starters featured the telling "LF" notation on the menu, which signifies that they're local favourites. We couldn't think why not, as both were sensational.
A good terrine can make your day - moist and bursting with flavour with just the right amount of pork or duck fat, they are simple peasant fare that never fail to please. Two Fifteen's terrine was terrific. This thick slab of mosaic-like meat, flecked with bright green pistachios came with a pear chutney that was a sweet and gentle companion for it.
The tender white muscle of the scallops, gifts from the Atlantic ocean in this case, were cooked to absolute perfection and rested on a rusty orange bisque that was full of strong, musky flavours. A delicate cauliflower puree offset the bisque beautifully and the only outsider on the plate in my opinion was the polenta chip with its hefty corn overtones threatening the delicacy of the rest of the dish.
By the time our mains arrived the dining room was in full swing and so were our appetites which was just as well as these were hearty bistro meals. My dish of chicken thigh stuffed with that magic trio of bacon, thyme and onions was served with puy lentils, which some consider the caviar of the lentil family.
My friend's main dish was another beautiful example of classic bistro fare - a duck confit leg, served on spinach and a smooth kumara mash. In this same column recently I criticised a restaurant for taking a too casual approach to its food presentation. The kitchen team at Two Fifteen showed no such sign of carelessness and both dishes had been plated up with the finesse of a top restaurant, but without the fussiness.
The only slip-up was that the duck dish had been served on a near-cold plate that had no hope of preserving the heat of the mash and spinach and therefore these were tepid.
Schmid is an avid fan of bottling fruit and making preserves, so for this reason don't be surprised if the dessert menu features feijoa and raspberries.
Unfortunately, we found this out after we'd already placed our orders for Italian fritoles and a sticky date pudding - but it's a good enough reason to return.
Sticky date pudding is a somewhat overexposed dessert but this bistro version was immensely superior to most on the market. It was dense and wonderfully rich, surrounded by a pool of gooey toffee sauce and topped with a date puree that was a clever way to reinforce the date flavour and add another textural element - it lifted this classic pudding to another level.
The sweet Italian-style fritters were slightly on the stodgy side but the excellent tangy lemon curd and vanilla icecream went some way towards remedying this and we happily finished them off.
Two Fifteen does what all great bistros do - they look after you so well that you depart smiling and feeling thoroughly nourished and looking forward to the next time you get to dine there.
From the menu: Charcuterie - land jager & saucisson de menage $8.90 each, seared scallops with cauliflower purée & bisque cream $19.90, terrine of pork with pear chutney $18.90, confit duck on kumara mash $29.90, chicken thigh with braised lentils $29.90, Italian fritoles $14.90, sticky date pudding $14.90.
Drinks: Fabulous wine list.