Herald rating: 4/5
Address: 1087 New North Road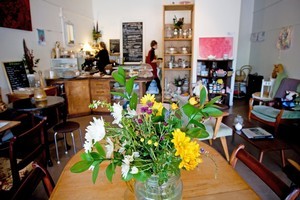 We came here because we'd heard good things about this cute Mt Albert cafe that used to serve only counter food and coffee, but which has expanded to offer a small (vegetarian) menu.
Parking was easy enough on New North Road.
We walked in and immediately thought we loved almost everything, from the antique and retro furniture dotted throughout, to the knitted fruit and vegetables on display, to the crafts for sale on the walls, and the pretty crockery. Oh, and the music playing which ranged from Fat Freddy's Drop to some old-time swing.
The most unusual thing on the menu was the homestyle beans, hashbrowns, balsamic tomatoes, avocado and toast ($15.50)>
We ordered the superb filo pie ($8), filled with spinach, kumara, courgettes and served with feijoa chutney; delicious hotcakes ($12.50) - three servings sprinkled with finely chopped almonds and served with banana, kiwifruit, melon, pineapple and maple syrup; and the tasty and filling, though slightly stodgy, filo spiral ($7) with tomatoes, beans, spinach, red pepper and caramelised onion.
The service was very sweet and friendly. We loved the attention given to the resident moggy who was cruising around.
The coffee was Kokako, and served strong and hot. The generous pot of leaf tea was also declared a delicious brew.
We recommend if you come here you take one of their home-made jellies, sauces or drink syrups, with flavours like hibiscus or lavender.
Overall we thought Cosset feels like a slice of K Rd or Wellington's Cuba St, and, if you like the feel of an era gone by, this little gem is well worth a trip to the 'burbs. However, it's probably not a place for those with inquisitive toddlers as there is a lot of precious stuff within reach of tiny fingers.