Herald rating: 3/5
Address: 462 New North Rd
Phone: (09) 849 4020
Website: arthuravenue.co.nz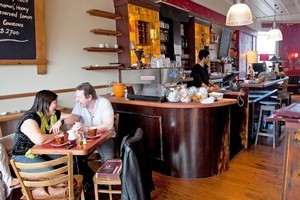 We came here because we were keen to see what the new owners had done to this eatery, right in the heart of Kingsland village, which was formerly Tabou.
Parking was a challenge, as always around Kingsland - you're usually best to head for one of the back streets.
We walked in and immediately thought the space has undergone a major transformation, with the kitchen now opened up and new decor including distressed red walls, comfy booths, a lot of modular wooden shelving housing knick-knacks, and an unusual faux antique European-style basin near the bar.
The most unusual thing on the menu was Moorish eggs ($17) - farm eggs baked in traditional tomato salsa, with Spanish meatballs, fresh coriander, served with hot Turkish bread.
We ordered the aforementioned eggs, which came piping hot in a terracotta dish and were quickly scoffed, the very tasty creamy mushrooms with chorizo and five-grain toast ($15), the "delicious" potato and feta cakes with bacon ($16.50) which came with a nice salad, creme fraiche and tomato salsa, and the breakfast omelette - three eggs, chorizo, cheese, tomato and red onion served with relish ($16.50), which was really good, though the accompanying toast a little underdone.
All were generous serves.
The service was disappointingly lacklustre, though it's early days for this eatery.
The coffee was, well, two out of three were great, the flat white wasn't quite right.
We recommend if you come here you peruse the tapas menu and plan a return visit for their afternoon/evening service.
Overall we thought Arthur Avenue has good food (though at city prices) and seems a little confused at what it wants to be - both with the décor and the slightly schizophrenic menu, which tries to do too much. Plus, they'll need to get their service sorted out before the before the Rugby World Cup takes over the area.