Herald rating: 4/5
Address: 85 Garnet Rd, Westmere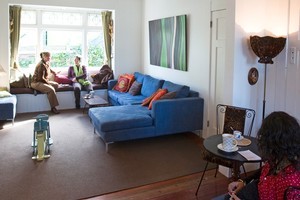 We came here because we were enticed by the art deco shop frontage and wondered what lay beyond.
Parking was not easy on Garnet Rd but there was room on nearby Warwick Ave.
We walked in and immediately thought cute! This place feels like someone has literally opened their home to the public - which, as it turns out, is exactly what the owners have done.
The most unusual thing on the menu is the spanakopita. There's no menu as such but an alluring selection of organic cabinet food.
We ordered the spanakopita ($7), a delicious cheesy Greek pastry morsel packed with spinach and feta, which managed to feel both nutritious and naughty; a fantastic, golden mince and cheese pie with veges ($7), which Soph said was amazing, and a slice of the "sexy raspberry bread and butter pudding" with cream ($7), which had a lovely, silky texture and wasn't too sweet.
The service was enthusiastic. The owner sparkled with personality and insisted we try this, try that, and made sure we checked out the lounge upstairs.
The coffee was okay. A bit on the bland side.
We recommend if you come here head upstairs for the green painted table by the old piano or park yourself on the comfy couches in the corner and read magazines. The cafe is decorated with fun vintage ornaments - old copper kettles, furry lampshades - and literally backs on to the owners' home.
Overall we thought visiting Garnet Station felt like popping into to a quirky friend's place - it's unpretentious, good value for money and an original addition to the Westmere neighbourhood.