Herald on Sunday rating: 4/5
Address: 854 Dominion Road
Phone: (09) 620 8730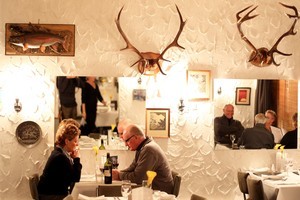 Don't tell the Professor I said so, but the Hollywood Dairy in Balmoral does a good Cuban cigar. I made a mental note as I drove past on the way to Cazador, because the kind of man-style meal I was planning is one that demands to be finished off with a stogie.
Cazador, a presence on Dominion Rd for nearly a quarter century has a name (it means "hunter" in Spanish) that firmly signals its intentions. To be blunt, this is not really a place for vegetarians. Sure, the menu includes a meat-free pasta dish and dolma (stuffed vine leaves) but after that, you're pretty much on your own.
For the species of diner that Hindus politely refer to as "non-vegetarians", it's a different matter. By my count, 14 species of sentient beings perish in the interests of populating the bill of fare at Cazador: five hoofed, three feathered, five from the sea and a rabbit.
Even before you open the menu (robustly laminated, I noticed, presumably so that it's easy to wipe off fatty or bloody fingerprints) you may observe that the rustically plastered walls are adorned with deer heads, stuffed ducks and the remains of other departed creatures.
It takes a committed carnivore to stare into dinner's glazed eyes before ordering it.
Cazador is a game restaurant in the old-fashioned sense: if you bring in the spoils of your hunting trip, they will make it into dinner (it has to be dressed or butchered, though; don't go dropping a wild boar on the doorstep with a note saying "see you at 7"). But if you're not handy with a 12-gauge, not to worry: they have plenty that they killed previously.
As the Professor is a bit queasy about meat, I grabbed a red-blooded male as a dining companion. My only demand was that he had to order stuff he had never eaten - the last thing you need at a game restaurant is somebody who insists on a steak.
As it transpired, that wasn't hard. Despite its Spanish name, Cazador serves food that has more than a whiff of the eastern end of the Med, because the chef is Persian, and my eye was immediately drawn to stuff I couldn't even pronounce.
So my entrée, which rejoiced in the name jaghor-baghor, consisted of duck livers and venison kidney panfried with tomato, coriander, garlic and lime. It purports to be a classic snack in Teheran although, perhaps because Cazador's spelling is idiosyncratic, I can't find it anywhere else online. No matter: it was original and delicious, the kidney erring on the dry side but the small chunks of liver juicy and agreeably charred on the edges.
I was just as happy with a dish of duck done with a sauce of sour cherry. I tend to avoid the combination of meat and fruit, but the name, ordak-va-albaloo, is mouthwatering and the dish was too, the tartness of the cherries perfectly offsetting the fattiness of the duck.
We were both slightly less taken with Andrew's keshteh-e-baboli, a sort of cheese and eggplant bake, partly because there was so little eggplant in it. But his baked pheasant, prepared according to an Armenian recipe with garlic, lime, thyme and crushed pistachios was a cracker.
It's not all intimidatingly exotic at Cazador: a menu that includes pasta dishes, shanks (of venison and lamb), pepper steak, and fish with wine, cream and capers has something for almost everyone. The atmosphere - cosy, homely, friendly and unpretentious - is very comfortable.
After a stop at the Hollywood I arrived home wishing for another glass of vishnovka, the Russian sour-cherry firewater I'd enjoyed at the end of my meal. Instead, I smoked the cigar. But, like Bill Clinton, I didn't inhale.
Need to know
Value: $$
Look: Chic this ain't
Taste: Sauces and juices
Try: That Russian aperitif Price guide reflects the cost of three courses for one person without drinks.
$ = $20-$40; $$ = $40-60; $$$ = More than $60