Address: 226 Ponsonby Road
Phone: (09) 376 3095
Website: prego.co.nz
Cuisine: Casual Italian
Rating: 9/10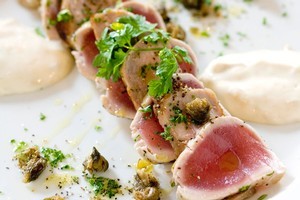 Fabulous. Noisy. Fun. Crowded. Drafty. Sensational. Call me a late bloomer but I'd never been to Prego until last week and I'm always surprised by the range and passion of responses the mere mention of this Ponsonby institution elicits.
During my research one regular I spoke to even claimed he'd devoted that much of his income over the years to dining there that he referred to himself as an "investor" in the place. Brilliant.
As a venue, Prego is lively and interesting. There's a high-walled enclosed courtyard out front and indoors is the dining room, where tables and chairs are packed in like anchovies, the bar, with its blazing fire, and the big, open, wood-fired oven.
At Prego they follow the trend, more common overseas than on our shores, of not taking bookings (except for large groups) so you take your chances for a table. We chose a mid-week night and arrived early and our strategy paid off - we were seated immediately. Don't expect privacy here - the tables are jammed into every square inch and it's noisy with the clamour of people having a good time.
Many had warned me that it was hopeless for a first date but I have to disagree - the noise levels are high enough that it's almost impossible to be heard, let alone overheard, and I quite liked that on a first date you got to practise what it would be like to yell at each other should the relationship blossom.
One thing it is easy to find consensus on, is that the food at Prego is consistently outstanding and caters for all tastes. While the regular menu focuses on traditional Italian fare, the chef isn't afraid of using the specials board to get more inventive for those seeking something beyond the staples.
I began with the vitello tonnato, that classic Italian dish of cold roasted veal with a tuna sauce, which Prego has taken and given a lighter twist by alternately layering the petals of roasted veal with thinly sliced seared tuna and boosting the flavour with just the right amount of mayonnaise and crispy capers. My dinner date devoured another great classic - the insalata caprese. I was afforded a mouthful and, while the freshness of the mozzarella wasn't outstanding, the dish was still lively and flavourful in its simplicity.
Around us fellow diners were relishing plates piled high with fresh-looking, steaming pasta and dazzlingly colourful pizzas. We began to question our decision to stay away from them in favour of seafood dishes for our main course but I'd been told that the Prego kitchen boasts some of the freshest seafood around town and that they know just how to treat it. Turns out the rumours are correct.
Baked whole baby snapper arrived on a medley of Mediterranean vegetables, including plenty of fat black olives that had had the bitterness warmed right out of them - they were juicy and smooth.
The fish was cooked spectacularly well, not an easy feat when baking a whole fish as one side, the underside, is always at risk of stewing in the juices whilst the flesh from the upper side still clings to the bones. This was a perfect specimen - tasty and moist, cooked just past translucent and it fell away from the frame.
Pan-fried fillets of John Dory came draped over a loose, wet risotto, flavoured gently with a trio of soft herbs - chervil, dill and coriander. It was difficult to decide if it was the rice or the fish that was the hero, both were so divine. Not since Anglesea Bar and Grill closed its doors 10 years or so ago have I tasted such wonderful fish on Ponsonby Rd.
All the while we were eating, there was a buzz building from a dining room filled with a diverse mix of diners made up of families, groups of fashionable couples, friendly twosomes and others arriving, hoping for a table. I was astounded by how busy the place was. And the staff are incredible, weaving their way expertly between the tables to attend to each group with service that strikes the right balance between being personable and efficient.
For dessert I can highly recommend the chocolate fondant and budino di datteri (an infinitely more interesting name than sticky date pudding) both of which had us in raptures at their exquisite gooey bitterness and sweetness respectively. Irresistible.
Prego is loud, sexy, exuberant and unpretentious with food that is unfussy and magnificent. It deserves its reputation as an Auckland institution and I've returned twice since that first visit only a week ago. I'm thinking of becoming an "investor" in Prego - the dividends are so rewarding.
From the menu: Caprese salad $20.50, vitello tonnato (tuna) $22, whole fish $32, fish on risotto $34, cioccolato $13.50, budino di datteri $13.50.
Drinks: Fully licensed.