Herald rating: 4/5
Address: 1 Antares Pl, Mairangi Bay, North Shore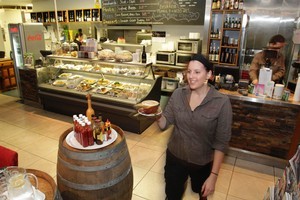 We came here because we wanted somewhere we knew would have good food and good ambience. We had been here before and enjoyed it.
Parking was in the carpark in front.
We walked in and immediately thought the cafe had a comfortable atmosphere with a mix of modern and rustic with the blend of steel fittings and brickwork and wine barrels.
The most unusual thing on the menu was on the specials board - venison sausage on potato mash with onion and gravy ($15.50).
We ordered a Pickles omelette with spinach, mushrooms, tomato and onion ($15) with a side of bacon ($4) and eggs benedict with bacon ($16.80). Both were delicious and the omelette was attractively wrapped around the vegetables and bacon.
The service was excellent.
The coffee was just right.
We recommend if you come here you take the opportunity to relax in one of the big, comfy chairs.
Overall we thought Pickles is a surefire option if you want a pleasant brunch.