Herald on Sunday rating: 4/5
Address: 18 Majoribanks Street, Mt Victoria
Phone: (04) 385 7577
Website: ambeli.co.nz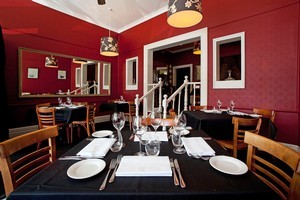 A neighbourhood restaurant is an affordable kind of place, it seems to me, where you drop in unannounced because you can't be bothered cooking. It's not really the kind of place that charges $20 for a medjool date.
I exaggerate, of course, but only slightly, and I do have it in writing: line one on the bill says "1 date $20".
The menu talked it up a bit more: it would come with "preserved lemon and pecan salad, cumin goat's cheese and pickled orange salad".
But I call it a date because that's what it looked like on the plate. No wonder the waiter was anxious to suggest, when the Professor said she was having two entrées and no main, that the date should be served first. She might have been left staring at her solitary medjool when our pork belly, lamb rack and fish of the day landed.
I raise the matter because The Ambeli was named last year's best neighbourhood restaurant of the year by Cuisine magazine (although the judges didn't manage to copy down the name correctly, which includes the "The").
"Everyone should be blessed with a neighbourhood restaurant like this," enthused the judges, who presumably live in a posher neighbourhood than I do.
Having organised a trip to Wellington, I had phoned a cousin and asked if he and his partner fancied joining the Professor and me for dinner at the place in question.
He was salivating too much to reply intelligibly and a quick look at the menu online showed me why. The prices are not up there with those at Martin Bosley's ($35 for an entrée, anyone?), but they - and the food coming out of the kitchen - are closer to fine dining than neighbourhood bistro.
The Ambeli takes its name from the Greek word for a vineyard. Greece's main contribution to the world of wine being retsina, I'm not sure that it is safe to put "Greek" and "vineyard" in the same sentence, but at The Ambeli they certainly take wine seriously and, despite the owners' origins - Shaebodine and Elisavet Moleta are respectively of Italian and Greek Cypriot stock - the emphasis is on New Zealand vineyards.
Shae (named "restaurant personality" in those same Cuisine awards) was an attentive and informed sommelier, quickly and precisely matching us up with a herbaceous Stonecroft sauvignon blanc from Hawke's Bay, a reminder that Marlborough is not the only place where they make great savs.
Sam Pope, the chef whose work has earned the restaurant many of its plaudits, moved on late last year and Josh Evans, a one-time sous chef, has returned from his OE to take charge in the kitchen. As a result, by all accounts, cannoli, the fried-pastry tubes filled with sweet ricotta that are one of the many glories of Sicily, have disappeared from the menu, which is a minor catastrophe. Instead there is a dessert called "reinventing the tiramisu", which tastes like a nougat semifreddo. Why it isn't called, say, nougat semifreddo, I have no idea.
You may sense a theme emerging here. The food showcases considerable skill and inventiveness, but the flavoursomeness and generosity of Mediterranean cuisine - and neighbourhood dining, for that matter - is missing in action. The results are often very impressive: a melt-in-mouth carpaccio of beetroot, served with a pine nut panna cotta, looked like beef and tasted like heaven; the calamari, with butter beans and chorizo, was a study in contrasts of texture and piquancy.
Among the mains, the sherry-braised pork belly was a smart take on roast pork and apple sauce in which the salty, unfatty meat was set off superbly with fresh pear and honey.
But it was a dish more delicate than generous; a block of belly barely bigger than a matchbox. Likewise my "rack of lamb" was three spoon-sized cutlets atop a smear of baba ganoush and a single goat-cheese tortellino. Little wonder that sides of roast potato and couscous salad were enthusiastically devoured.
The restaurant is hardly to blame for a definition assigned to it by a magazine, I know, and the food is hard to fault. But anyone looking for neighbourhood dining here may be in for a bit of a shock.
Ambience: Comfy
Vegetarians: One entrée, one main
Watch out for: The wind when the door opens
Bottom line: Not your average neighbourhood bistro
THE BILL
$401.70 for four
Entrées: $20-$25
Mains: $36-$39
Sides: $8-$9
Desserts: $15
Wine (1 bottle, 4 glasses): $106.20
Water: $7.50