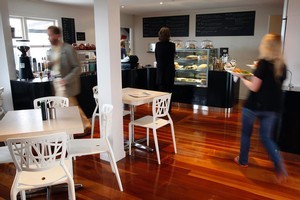 It seems Birkenhead is spoilt for choice when it comes to good coffee.
Overlooking the western end of the harbour is a refitted bungalow with lightened woodgrain floors and a bare, black, concrete block interior. This clean refit houses the aptly named Bungalo, and is a fine place to enjoy some of the Shore's finest coffee. The flat white and espresso were excellent and for the first time, I ordered my second espresso just for enjoyment.
From the three coffees I enjoyed, the espressos presented the most vivid array of flavour profiles with nice berry sweetness, hints of citrus and a pleasant cedar-like aroma. It is important to note that though these flavour profiles are observable, if you make a point of looking for them, it should not take away from the overall experience of enjoying a good cup of coffee.
In the flat white the coffee came through with a sweeter taste, and the addition of well-textured milk to the espresso characteristics left a buttery mouthfeel to be savoured.
This experience was heightened by the great service and humming atmosphere. An experience I would highly recommend to others.
Bungalo, 96 Mokoia Rd, Birkenhead, Auckland. Ph 09 480 2819. Open: M F, 7 3pm. Sat/Sun, 8 3pm. Manager: Ann Jennet. Coffee: Atomic
* Hans Pronk is a top Auckland barista who owns ME Coffee Boutique in Albert St and roasting company Merito Espresso.