Herald on Sunday Rating: 3.5/5
Address: 204 Quay St, Viaduct Harbour
Phone: (09) 357 6147
Website: snapdragonbar.co.nz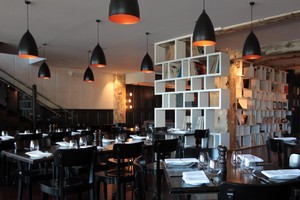 When did beetroot get sexy? I spent two-thirds of my life - which is a decent interval, I assure you - detesting the stuff, and now it's become chic.
In defence of my distaste I can claim childhood trauma. My mother, whose cooking never shed the slightly punitive "be grateful" mentality developed in the Depression, thought no salad was complete until a few slices of canned beetroot had spread a vinegary bloodstain over everything on the plate (hard-boiled eggs with red yolks were a special horror).
But restaurants seem determined to change my mind. A few weeks ago, at The Ambeli in Wellington, I tried beetroot carpaccio (paper-thin slices, the way they do rare beef). It was a literal melt-in-the-mouth experience. I've had beetroot gnocchi at Merediths, roast beet salad at Euro and Sunday Painters, and a beetroot ragout (with smoked lamb) at Molten.
At Snapdragon, the beetroot and goat-cheese bruschetta was one of two dishes that caught my eye on the list of a dozen and a half "first plates" on offer.
The other was a plate of what the Italians call arancini, little fried balls of cauliflower risotto.
The Professor could not conceal her amazement that neither of the entrees I suggested involved the slaughter of animals, but I promised the main course would have a body count. In the meantime, she was most impressed with the two choices - we carefully ate half of each before swapping plates. The shredded beetroot was accompanied by generous balls of a dreamily creamy but lightly tangy chevre; and an apple-flavoured honey syrup under the arancini was plate-lickingly perfect.
Snapdragon occupies the Viaduct site that was once home to the charmingly named Loaded Hog. As its website address implies, it is partly a bar, and a very attractive one, too, not least because of a towering plant-covered wall which is kept alive by being blasted with eight hours of artificial daylight each night after closing time.
Other walls are covered with geometrically attractive shelves stacked with old LPs - browse at random and blush at how much you once loved Cliff Richard - which offer pitifully little protection against a brisk draught and the braying of drinkers. My advice: get a table as far northwest as you can find one.
And it is certainly worth getting a table. The small plates dreamt up by chef Ross Birch - formerly of Shed 5 in Wellington - make for some interesting tapas: beef-and-mushroom spring rolls; wagyu-and-prawn summer rolls; tempura calamari. The mains - four fish options, including a half-crayfish, a poussin and all the usual quadruped mammals - look equally enticing.
I can report from happy experience that my serve of lamb rump, cooked long and slow sous vide (vacuum-packed in a water bath), before being finished off in the oven, was a standout: sensationally moist and tender, perfectly rare without seeming bloody. An accompaniment of spinach in a tart caper vinaigrette set it off perfectly.
The Professor, to what would be her regret, decided to pause at the salads and ordered the Caesar, perhaps encouraged to believe in the chef's taste by the fact that the menu did not offer that vile "chicken Caesar" option.
Unfortunately, what emerged from the kitchen was almost worse. Rather than carefully stripping the romaine lettuce leaves from the stalk, the person responsible had quartered the entire head and plonked it on the plate so it looked like a greengrocer's display. The miserable quantum of other ingredients did little to redeem matters: cold streaky bacon, two (count 'em) anchovies, deep-fried in tempura batter, which seemed a bit pretentious; cute little fried quail eggs; all seemed like garnishes on an agricultural clump.
"How was everything?" asked the waitress as she cleared away, so the Professor told her, slightly less colourfully than I have told you (she's nice like that). The waitress, blanching slightly, thanked her graciously and, later - having recovered her poise, taken advice, or both - offered a free dessert.
It was a hesitant but ultimately good performance and the salad was the sole false note in an otherwise splendid meal. If you go, make a point of ordering the vanilla dessert (brulee, panna cotta, cheesecake, shortbread, friand). You will dream about it for weeks.
Ambience: Potentially noisy
Vegetarians: Two first plates, two mains, sides
Watch out for: The draught
Bottom line: Mostly brilliant
THE BILL
$137.50 for two
Small plates: $9.50-$19.50
Salads: $22.50-$25.50
(wagyu beef)
Mains: $26-$36
Sides: $7.50
Desserts: $16
Wine: (two glasses) $21.50