Herald on Sunday rating: 3 1/2 out of 5
Address: 120 Upland Road
Phone: (09) 520 0748
Open: 7am-10pm daily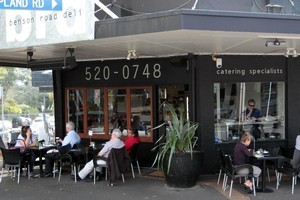 There's something warm and comforting about having a local eatery.
There used to be one at the top of our street, which was great when I couldn't be bothered cooking and didn't want the Professor to cook because she'd just make toast and Vegemite and a cup of weak tea.
I am not sure why they call Benson Rd Deli a deli. There are no smelly cheeses or hanging legs of jamon serrano. Nor the delights of the New York deli: the one-kilo pastrami sandwiches; the pickles; the seltzer.
It's more what I'd call a neighbourhood bistro - although you have to live in a pretty upmarket part of town to call this your neighbourhood.
Now I know it's unkind to sneer at rich people - they can't help it, after all - but what the hell: it's fun watching people coming and going, whose shoes cost more than my car, and even more fun to reflect that your kids can still look like utter pills no matter how much you spend on dental prosthetics and cello lessons.
But if the customers were out of my league, the staff were friendly and efficient (almost too efficient, in fact; there's one young chap who should be told not to start clearing the table while people are still eating).
I think they could lighten up on the vanilla-scented air freshener - a major solecism in any restaurant - but we may at least be sure that they take hygiene seriously here.
The address above notwithstanding, Benson Rd Deli is in Benson Rd. On Upland Rd is the entrance to its coffee shop, with very yummy-looking cakes in the cabinet, but downstairs is the dining room, a coolly chic concrete affair with handsome cylindrical lampshades and a colossally stupid Billy Apple artwork on the wall.
We were promptly delivered a jug of iced water - nice touch; none of this "Will sir have sparkling or still water this evening?" - and from a small but very serviceable wine list, I chose a glass of the Forrest sauvignon blanc while we digested the menu.
It's a list to satisfy most appetites, running from the light (mezze, bruschette) through salads and pasta to the substantial (bangers and mash; lamb shanks) and augmented by a list of half a dozen specials which, the night we were there, included skin-on snapper and beef-and-beer pie.
I found myself wishing we'd brought someone else so we could graze more widely - the pizza and pasta, for example, remained unsampled. But we were impressed with some arancini (risotto croquettes, filled with creamy melted mozzarella), even if sweet chilli sauce seemed an odd accompaniment, and the bruschette were good, too, crouton-crisp and topped with juicy tomato and excellent feta.
A chicken-and-leek pie was something of a disappointment: the filling was a tasty but gloopy roux and the pastry underdone and chewy, but the Prof was most impressed with a vege stack which was just like the food she would cook if I ever let her cook.
The waitress' recommendation that, if we were going to settle for one dessert, it should be the creme brulee, was a good one. She talked it up and it justified the hard sell.
The variety on BRD's menu suggests to me that it is capable of impressing more than it did us, depending on your menu choices. It's an unchallenging but satisfying experience that justifies the risk of venturing into darkest Remuera.
Ambience: Classy
Vegetarians: Ample choice, though only one main.
Bottom line: Simple pleasures
THE BILL
$90 for two
Bruscetta: $12.50
Arancini: $10.50
Avocado/aubergine stack: $18
Chicken and leek pie: $19.50
Dessert: $10.50
Wine (two glasses): $19