Address: 71 Davis Cres, Newmarket, Auckland
Phone: (09) 520 5664
Food: 6/10
Service: 8/10
Value: 8/10
Ambience: 7/10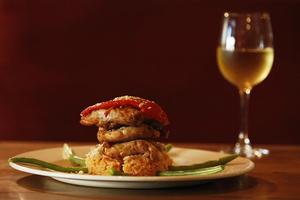 Eclectic might be the best word for the unusually wide-ranging menu at Safran, which describes itself as a Mediterranean restaurant.
This means that Greek meatballs turn up alongside tortilla, lasagne appears along with the Basque smoked fish salad esqueixada and salad nicoise features with vitello tonnato.
But the definition of Mediterranean proves pretty elastic, with dishes featuring kumara mash and a lunch offering of African corn banana fritters, while in the desserts bread and butter pudding and a sticky ginger number are among those listed. So choice is not the problem here.
While we dithered and changed our minds we occupied ourselves with tostada, bits of bread with various toppings, some more successful than the vegetarian one which relied heavily on hunks of carrot. And what they called a tapas - a bowl of black olives, feta and a huge amount of rather tasteless tomato chunks.
When it came to the mains we went with the spirit of the place and spread the geography around.
Italy had my vote with the vitello tonnato. One of my Italian cookbooks has more than 80 veal recipes but here they substitute beef schnitzel for the veal in this classic dish.
Nevertheless, it was tasty enough with a slightly under-powered tuna mayonnaise, capers, olives, zucchini and baby potatoes. I enjoyed it and felt I had done well compared with one of our other choices, the El Toro Scotch fillet (and I suppose it's nitpicking to question Scotland being Mediterranean.)
But the beef was tough enough for us to wonder if the animal had spent its life being chased around the bullring and our pregnant diner who was, she said, choosing beef only for the baby's iron count was disappointed.
The bull-fighting theme was more successful in the entertainingly named Matador's cape. This was a meal of roasted chicken, with chargrilled red pepper and almond sauce, served on a rice and chorizo pilaf with green beans. When the capsicum was exhausted it became slightly boring but it was judged a reasonable choice.
Moving further east, our fourth main was the Greek meatballs which were full-flavoured in themselves and partnered with a good tomato sauce, yoghurt, sauteed potatoes and vegetables.
The desserts, which one suspected were not all prepared on the premises, were reasonable without being exciting. The lemon tart was sharp and the warm pear tarte tatin was pleasing. My Belgian chocolate mousse cake (Belgium's on the Mediterranean? Oh, never mind) was solid and rich and our most novel choice and the chocolate cannelloni was similarly rich, with the coffee beans giving it a little edge.
The servings of all meals are generous and, at the special price of $28.50 a head for a two dishes, are well priced.
The wine list is modest and in the interests of multiculturalism we tried the Framingham New Zealand Montepulciano, a soft little number well suited to Mediterranean food.
The service was excellent, efficient and unobtrusive and a lesson some of Safran's more ostentatious peers could heed.
The premises are simple but comfortable and while it required too much of a stretch of the imagination to conjure up any Mediterranean spirit on a cold wet night, surrounded by the debris of road works on Davis Cres, I could believe that on a sunny lunchtime Safran would provide a cheerful, good-value option.
Our meal: $216 for two first courses, four mains and four desserts, one bottle and two glasses of wine, two beers and a soft drink.
Wine list: Modest but adequate and decent value.
Verdict: Needs a little sun to bring out the Mediterranean flavour of unassuming food