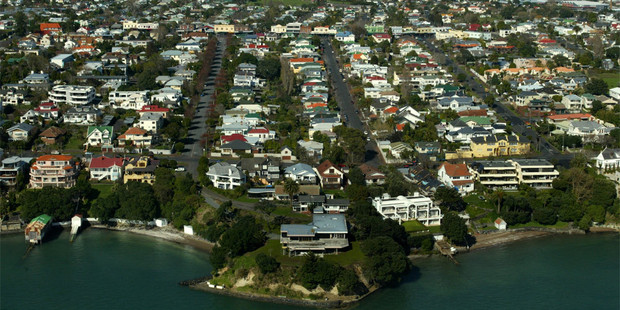 A woman confronted me recently about an article I had written. She said: "My husband says you are wrong. Housing is the best investment because you can leverage it, they are not making any more land and people always need a place to live."
He is correct on all counts. So why are some economists prattling on about the rampant housing market in Auckland with medium sale prices nudging $600,000. Here is why:
A country becomes richer by increasing its production of actual goods and services. This is measured by Gross Domestic Product. This ultimately determines average incomes in a country. New Zealand's GDP is increasing at the pace of a three-legged turtle.
The sale of an existing house represents a transfer of assets between the buyer and seller. There is no new physical output or incomes or employment generated except for real estate agents and bankers.
Housing inflation in New Zealand over the past decade has largely been matched by increases in private debt, much of it borrowed from overseas.
We have used overseas money to bid up our own house prices. There is no increase in New Zealand's ability to service this debt through this process. Individual landlords may be able to generate income from rent but those paying the rent still have to earn an income from somewhere. The process of debt-fuelled housing inflation has not generated any well-paying jobs to service the debt. This lack of output and income growth must eventually bite. The billion dollar question is when?
Some of the housing inflation has been attributed to wealthy overseas buyers. This may be the case, but they are not contributing to increased output or incomes in New Zealand or this would have shown up in our GDP figures. So many are either earning their incomes overseas or have come here to retire.
Rampant housing inflation has created a very ugly generational divide. Young people wishing to buy a first home are forced to take on a massive debt which reduces their ability to save and invest in productive enterprises such as new businesses. Parents may fund their offspring into a first home but this still represents a loss of funds that could have been used to grow our economy.
Individuals can get rich by buying and selling houses but a nation cannot. In such a situation a housing market resembles a giant game of pass the parcel hosted by a very profitable banking sector. In our case most of the profits head overseas. There is no net gain to our country, just more debt and higher house prices. In most cases they are the same houses they were 20 years ago.
Real estate bubbles can last for many, many years. They are self-reinforcing. The ultimate cost to a society is far greater than that of a sharemarket crash because of the massive debt hangover and the impact on the real economy in lower output, employment and incomes. This is why some economists are ringing alarm bells.
Peter Lyons teaches economics at St Peters College in Epsom and has authored several economics texts.