Auckland agents say vendor expectations may be too high as listings and mean asking prices rise.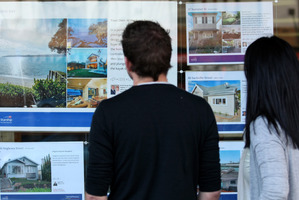 Sellers' expectations of what their property is worth could be getting too high as a surge in new listings prompts some buyers to be patient.
The mean asking price in Auckland reached a record high of $611,864 last month according to Realestate.co.nz, leaving some real estate experts questioning whether sellers' expectations were unrealistic.
The national asking price also rose 4.6 per cent on the previous month, propped up largely by the high prices recorded in Auckland and Canterbury.
The marketing manager for realestate.co.nz, Paul McKenzie, said there was a higher expectation coming from sellers.
The mean asking price had exceeded $600,000 for the first time in Auckland and a notable rise in new listings reflected new confidence from sellers, he said.
Properazzi.co.nz property analyst Alistair Helm warned the market could be nearing a point where sellers' expectations were balanced by what buyers could afford.
"For the last year the seller has had the upper hand because there's been a shortage of supply and a strong demand. I think the balance is moving more away from sellers to buyers, but it's certainly not a buyers' market - it's still prevalently the seller," he said.
"If you look back at the last four weeks there's more choice and buyers might be saying 'hold on, I don't need to be so panicky because I've seen a lot more property come on the market therefore I don't need to be stressed about having to get this property'."
A realestate.co.nz report last weekend showed that it took an average of almost 20 weeks to sell a house in Auckland - up 35 per cent on last year.
Howick-based Ray White saleswoman Marie Raos indicated a change in the market in her weekly e-newsletter, suggesting a drop in the number of east Auckland properties sold at auction last Monday could indicate sellers' expectations were "getting too high and buyers were resisting and waiting for new listings".
Auckland-based independent auctioneer Ross Foreman, who runs about 12 auctions a week on behalf of several agencies including LJ Hooker, said the level of "surprise auctions" where properties exceeded agents' expectations appeared to be lower than a few months ago.
Mr Foreman said each area of Auckland tracked differently but good-quality, well-presented properties in areas in and around central Auckland, as well as parts of east and west Auckland, were still attracting a lot of interest.
However, Barfoot & Thompson chief executive Wendy Alexander said her data did not suggest buyers were waiting, as the company had sold 309 properties in the past week, beating its six-week average of 294 a week.
"The volume of sales is significant and the listings coming on board just can't keep up with demand to purchase." She said buyers were "savvy" and knew what a property was worth, which helped keep sellers' expectations in check.