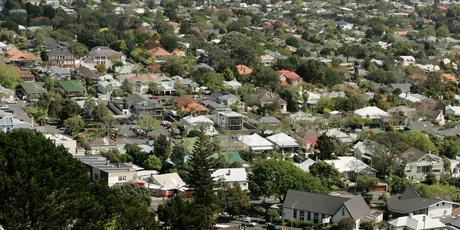 New Zealanders have shed the security of fixed mortgages during a long period of low interest rates, choosing floating loans in increasing numbers.
But with a rise in rates possible at the end of the year, borrowers are encouraged to shop around - and make extra payments while they can to reduce their loans.
"Just a few years ago, most homeowners wouldn't dream of doing anything other than fix," said Derek Bonnar, the national manager for Canstar, a financial research firm.
Nearly half of new loans were now floating, Mr Bonnar said, after a huge surge during the global financial crisis' plummeting rates.
"We've noticed that there are generational differences. The younger generations are less conservative and are happy to take on more floating-type products," he said.
The company has published a comparison of loans being offered by the country's main lenders, marking them by price and features such as lending terms and fees.
The loan packages it designates as "five-star" are the ones it rates in the top fifth per centile on a scoring system.
Commission for Financial Literacy and Retirement Income executive director David Kneebone said it was important to choose a loan that fitted your "money personality".
For example, loans could have different terms and fees around making extra payments - a strategy that could save tens of thousands of dollars over the long-term. If you had little discipline with money, fixed loans could often still be best.
The commission's mortgage calculator shows a $13,563 saving by paying $16.50 extra every week over a 20-year, $300,000 loan. "The potential savings are massive," Mr Kneebone said.
The biggest tip was simple - and something banks might not tell you: "Pay down your debt as fast as you possibly can," he said.
ASB economist Jane Turner said the large numbers of loans on floating rates would heighten the effect of any interest rate hikes led by the Reserve Bank, the country's central bank, which sets an "official cash rate" on which basis it makes transactions with private banks.
"We've seen quite a huge shift in trends," she said.
"If we went back to, say, 2007, we saw the majority of New Zealanders going for a fixed rate, and now that's changed dramatically."
BEST OFFERS
"5-star" home loans
Floating
ANZ: 5.74 per cent
($724 a fortnight *minimum payment for a $250,000 loan over 25 years. Source: Sorted)
BNZ: 5.74 per cent ($724)
1-year
Kiwibank: 5.65 per cent ($718)
Westpac: 5.59 per cent ($714)
2-year
Kiwibank: 5.79 per cent ($728)
Westpac: 5.79 per cent ($728)
3-year
ASB: 6.1 per cent ($750)
Kiwibank: 6.1 per cent ($750)
5-year
ANZ: 6.9 per cent ($807)
ASB: 6.9 per cent ($807)
Source: Canstar
Tips to save money on loans
* Make extra payments - pay bonuses, tax refunds or any other unexpected windfall into the mortgage. Even if it's a few hundred dollars at a time or a few dollars a fortnight, it will reduce the interest payments over the life of the mortgage.
* Change lenders. It can save money to shop around for a better interest rate or change to a different product with the same lender.
* Ask your existing lender for a discount.
Examples
* For a $300,000 mortgage at 5.7 per cent over 20 years, minimum payments are $967 a fortnight.
* Pay $1000 a fortnight (+$33)save $13,563 in interest.
* Pay $1100 a fortnight (+$133)save $45,473 in interest.
Source: Sorted.
By Michael Dickison

Email

Michael