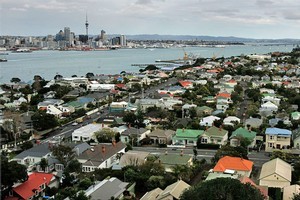 New real estate stats show what the industry is calling "a late, but by no means insignificant rise" in market activity.
A monthly report prepared by industry website realestate.co.nz shows a "strong rise in new listings coming onto the market" in November - up 7.3 per cent to 12,932.
Actual sales have failed to show any great lift though.
"These latest statistics in this report, which have been consistent for a number of months now, in regard to trends, all continue to point to a confident market, albeit a sluggish one," says the report.
"Asking price expectation whilst showing some weakness this month, does not appear to be under excessive pressure, however price would seem to be the only factor able to bust the logjam of unsold inventory of houses on the market."
Alistair Helm, chief executive of Realestate.co.nz said the stagnant market climate that was forecast last month, following a drop in the number of listings usually experienced in the spring months, may be avoided with this "rush by vendors" to list properties before the year is out.
"These figures are heartening because they indicate there is actually some new life in the market, which we haven't seen in a long time," said Helm; "Vendors are eager to take advantage of the summer marketplace and are setting their expectations at realistic levels."
The level of unsold houses on the market at the end of November rose again to 54,365 from 52,043 in October. This represented the equivalent of 53.2 weeks of equivalent sales, as assessed on a seasonally adjusted basis.
A glut of houses on the market is still apparent - which agents say is driven by lacklustre sales rather than excessive new listings.
"The absolute level though at over a year of equivalent sales will continue to impact the market and maintain the "buyers-market" perspective," says the report.
Growth in new listings indicated a "sense of confidence on the part of sellers," said the report and it was matched with a slight drop in asking price expectation.
- NZ HERALD ONLINE