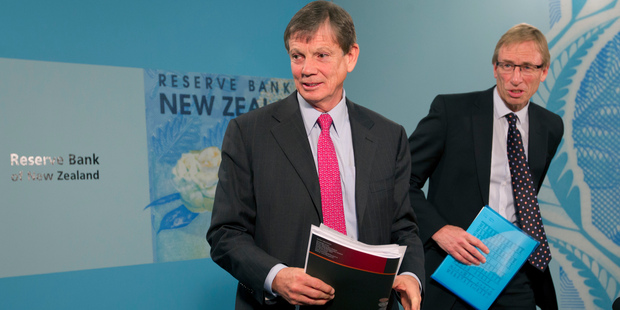 The Reserve Bank has rejected claims that its curbs on low-deposit mortgage lending will have the perverse effect of reducing how much new housing gets built.
In a speech to the Property Council in Auckland this morning deputy governor Grant Spencer reiterated why the bank has imposed a 'speed limit' on high loan-to-value ratio (LVR) lending, what its best guess of the impact will be and the indicators it will be watching to decide when to remove the restrictions.
While the bank estimates that house price inflation will be between 1 and 4 percentage points lower than it would otherwise be over the year ahead, Spencer said house prices would still remain high relative to incomes and rents.
"In this sense it is hard to see how these restrictions will materially reduce the existing incentives to develop new residential property.
Provided the red tape costs and delays are reduced, there will remain a strong price incentive to expand the housing stock, particularly in Auckland and Christchurch," he said.
Between 2000 and 2007 house prices more than doubled, and household debt increased from 100 to 150 per cent of disposable (after-tax) income.
"When the cycle turned in 2007, house prices fell 10 per cent -- a relatively benign fall compared with some countries, such as the United States, Spain and Ireland, where house prices fell by 30 to 40 per cent."
But now the combination of pent-up demand, low interest rates, rising net migration and a sluggish supply response has seen house prices climb to 11 per cent above the previous peak in 2007 nationwide, and 26 per cent higher in Auckland.
Spurred by mortgage rates at the lowest levels since the 1960s and "aggressive" competition among the banks, the stock of residential mortgage debt rose 6 per cent in the year to August -- faster than the incomes out of which it has to be serviced.
Lending to borrowers with high LVRs has grown twice as fast, which pushed the share of new lending at high LVRs over 30 per cent.
When exemptions are included, the Reserve Bank's regime would restrict high LVR lending to 15 per cent of new lending, though banks warn that they will err on the side of caution rather than risk losing their banking licences.
The Reserve Bank estimates that home sales will be between 3 and 8 per cent lower than the otherwise would have been over the first year.
A BNZ/Real Estate Institute survey of real estate agents found a net 41 per cent reported fewer first home buyers in the market.
But Spencer said households who borrow at high LVRs were the most vulnerable to a fall in house prices.
"In the event that house prices fall, these borrowers are more likely to see the value of their house fall below the amount of debt they have outstanding, particularly if they have entered the market recently. This can lead to financial hardship, mortgage defaults and, potentially, stress across the broader financial system."
Although the primary purpose of the LVR regime is to protect the financial system against the risk of the kind of grief which has engulfed the US, Ireland and Spain when property bubbles burst, the bank also expects it to reduce overall inflation pressures and the extent to which it has to raise interest rates.
But that effect is small -- abut 30 basis points compared with the 200 basis points of interest rate hikes the bank has pencilled in by the end of 2015.
"In due course, we expect housing supply to catch up with demand, and for demand to be further moderated as interest rates return to more normal levels over the next couple of years," Spencer said.
"As the imbalance between demand and supply is reduced, we will look to lift the LVR restrictions. The indicators we will assess in this regard include house price inflation, mortgage approvals, credit growth and house sales. We will be looking for clear signs that excess demand pressures have substantially reduced and that a removal of the restrictions will not result in a return of such pressures."
Prime Minister John Key accepted the Government's moves to increase the supply of houses, including 39,000 over three years in Auckland, were ambitious. However the Reserve Bank had never raised concerns about how achievable that was during its frequent discussions with him.
"It is possible because we know that in the past there has been times where numbers close to that have been constructed. What slows it up is the consenting process and effectively what the Government has done with the accord with Auckland is fast track that and essentially streamlined a lot of the other RMA consents. So yes it is ambitious but it's do-able."
While the current focus was largely on first home buyers, which Key said he understood, "actually most New Zealanders, certainly a large group of New Zealanders own homes".
"They don't want to see those values destroyed. On the other side of the coin as I've said so often rapidly rising house prices don't help anybody because eventually they lead to a bubble. So it is a combination of supply and the Government making sure it's doing everything to free up that system and to a certain degree where there is an overheated market, then the Reserve Bank playing a role on the demand side."