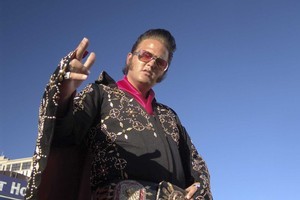 I realised residential property talking heads were different from my usual crowd when an answer came in rhyming couplet form.
"You'll never know
if you don't give it a go."
As a rule, fund managers et al won't attempt poetry when describing risk management strategies - probably for the best.
But property rhymes, are a sign of the times.
As local investors it seems, are experiencing global dreams.
Bad rhymes aside, some New Zealand residential property investors, fed up with high prices/low yields/tax changes/weather are looking for bargains offshore.
Certainly, the recent Reserve Bank inflation expectation data reflects overall gloom about the direction of local house prices.
According to the Reserve Bank survey, the median (please refer here if you want a refresher course in mean/median/mode meanings) expectation is that house prices will be exactly the same in a year's time - zero growth.
Statistical optimists may prefer the alternative figure that predicts the mean house price will be up 2.5 per cent by next November. Overall, almost 41 per cent of those surveyed expect house prices to be higher next year compared to 34.1 per cent who thought the same thing in May.
Despite this apparent creeping upbeatness about house prices, the Reserve Bank admits its statistics are somewhat wonky:
"A large number of respondents (over 40 per cent of those who provided a numerical figure) expect there to have been no change in house prices in a year's time. This has the effect of making both the mode - the most commonly-held expectation - and the median - the middle value in the distribution - zero. The distribution is not symmetrical either, but is positively skewed (to the right), causing the divergence in these statistics."
I take this to mean that the distance between the house price optimists and pessimists is getting larger.
But residential property investors are a determined bunch. If the local market isn't tempting them, other opportunities beckon, with many allegedly being lured to the US where house prices have famously crashed.
One commentator I spoke to swore he just witnessed a video of Kiwi property investors signing contracts to buy properties in Memphis (home of Elvis, not the ancient Greek one), resting the paperwork against the side of their tour bus.
A story on this website "where real estate and technology connect" (note the author's cigar) describes NZ home buyers flocking to Memphis, excited by the low prices.
Just like the Talking Heads song , Kiwi residential property investors are checking it out, trying to find a city to invest in.