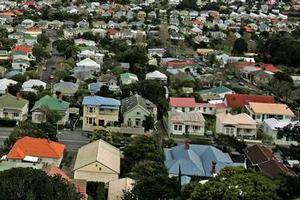 An undersupply of housing is about to push up rents, a report says.
BIS Shrapnel's latest analysis forecasts rents in New Zealand will mirror the rise of nearly 6 per cent predicted for Australia over the next three years.
"It's obvious there is going to be similar growth in New Zealand," says BIS Shrapnel spokesman David Dragicevich.
"You have got a low level of construction, record net migration of 26,000 next year - inevitably this will result in tighter rental markets and an increase in rents."
And the situation is expected to worsen. Construction has been crippled by decreased developer financial resources, and over the next year only 8600 homes will be built in the North Island, compared to an average of 14,000-15,000.
"That's a very low number," Dragicevich says, "and if investors don't enter the market at sufficient levels, the rental issue will become even more critical down the track".
Martin Evans of the New Zealand Property Investors Federation says it's obvious new taxes will be imposed and if they deter investment, there may not be enough rental property in future.
The report forecasts national house price growth of 4 per cent in 2011 and 6 per cent in 2012. Auckland prices are expected to rise by 7 per cent in 2012.
The Reserve Bank predicts firmer gains, with average prices rising by 8.5 per cent next year and 5 per cent the year after.
Home challenge
With building supply running below demand and interest rate hikes coming, BIS Shrapnel's report says home affordability will again be a challenge next year.
Experts predict rising interest rates requiring increased mortgage repayments, while wages are unlikely to increase at the same level.
BNZ chief economist Tony Alexander advises budgeting for floating rates rising 3 per cent starting mid-next year and ending in 2011.
Mortgage broker Kim Lyons of Be Mortgage Free says this amounts to a mortgage cost increase of 52 per cent.
Many borrowers coming off fixed rates are opting to float and get an immediate cash injection into their budget. But Lyons advises keeping mortgage repayments at a level based on the higher fixed rates, or trying to increase payments by $25 a week.
Big long-term interest savings can be made by doing this when rates are lower, and you pay your mortgage off faster.
"If I were a first-home buyer," Alexander says, "I would not buy any new furniture, have no store debt. I would run my car into the ground, watch free-to-air television, have only one mobile, cut out the coffees, not travel overseas for holidays - basically act they way my generation did when buying first homes in the 1980s."