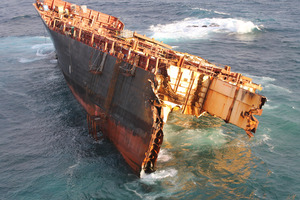 Salvors have made good progress recovering bundles of aluminium ingots from the wreck of the Rena despite bad weather earlier in the week.
Twenty-five bundles were removed from the hold of the stricken container ship stranded on the Astrolabe Reef off the coast of the Western Bay of Plenty yesterday, the most removed in one day since the recovery work began.
Maritime New Zealand spokesman James Sygrove said the operation was getting harder, describing the contents of the hold as "debris soup".
Further deterioration of the bow leaves the wreck in a fragile state, but it is still fixed firmly to the reef.
Winds are expected to drop over the weekend, with calm weather lasting into next week.
- APNZ