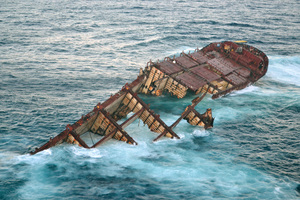 Noodle packets and timber from the Rena wreck have made their way to Great Barrier Island - the most northern point where debris has been found.
On a coastline observation flight organised by container recovery company Braemar Howells, Rena-related debris was identified on the island. A spokesperson for Braemar Howells said the debris on Great Barrier Island had been identified as noodle packets and small amounts of timber.
The spokesperson said Braemar Howells, working with Nelson-based marine support company Unimar, was now co-ordinating a response.
This will include staff being sent to the island in the next few days to survey the beaches and gather debris, which will be taken to a waiting barge.
A barge is already at Port Charles, in the upper Coromandel area, Braemar said.
Teams of workers are continuing to clear debris in the Coromandel area after large waves - some as high as 12 metres - pounded the Rena wreck last month.
Operations manager Neil Lloyd said clean-up efforts were prioritised in areas where there was a risk debris could be refloated on incoming high tides.
Clean-up work on Matakana Island was also high on the list of priorities, he said. Bundled lots of debris were removed from the island early this week, and beach surveys were continuing.
The spokesperson said recovery teams were using special equipment in recovering thousands of small plastic beads. The clean-up methods include portable vacuum equipment modified for use in sandy areas.
Braemar has recovered 768 containers so far.
For more articles from this region, go to Bay of Plenty Times