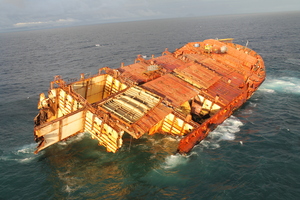 More empty containers and debris have been removed from the Rena as salvors make good progress on the stranded ship.
The recovery effort has brought 615 containers ashore from the vessel and immediate area and 716 overall.
However, more than 40 containers still on the seabed in other known locations are yet to be recovered, said Maritime New Zealand.
The vessel ran aground on Astrolabe Reef off Tauranga in October, and in January broke in two after the Bay of Plenty was hit by heavy swells. Six months after it hit the reef, the stern section of the wrecked container ship sunk.
Work to cut one of the cargo hatches is expected to be completed today and further containers lifted out tomorrow, said MNZ.
Winds of 12 knots are expected to drop to 3 knots with swells of up to 1m for the remainder of the week.
In a land and sea operation, the Braemar recovery team is continuing a sweep of the Coromandel coast and offshore islands to collect debris spilled from the ship.
The priority has been to tackle the worst impacted areas, and larger waste items have been prioritied for collection, said NZ operations manager Neil Lloyd.
The sweep will take in Mercury, Slipper and Aldermen Islands and Matakana Island.
Work ashore has included the recovery of plastic beads from beaches, and collection methods so far have been successful, he said.
Recent operations have included collection debris from inaccessible rocky areas.
Meanwhile, shoreline surveys in the last week have been carried out in the northern part of Mercury Bay, Matakana Island, beach areas from Mt Maunganui to Maketu, and areas within Tauranga Harbour.
Small amounts of oil and oily waste have been removed from the Mercury Bay area.
No new oil has been found at any of the other locations.
Teams will continue to respond to any new reports of oil as they come through, said MNZ.
- APNZ