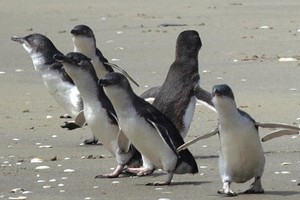 Police have been alerted to scammers using the effects of stricken ship Rena to try and lure people into making donations to a bogus wildlife fund.
Maritime New Zealand notified police last night after receiving several reports from people asked to make donations over the phone or directed to a website for a non-existent Rena response fund, said spokesman Jason Dawson.
"They were saying did they want to make a donation to a national wildlife fund and asked for credit card details. They said about the little blue penguins - they're tugging on the heartstrings," he said.
There are no official fundraising activities for the National Oiled Wildlife Response Team, he said.
Maritime New Zealand reminded the public to be cautious and to never provide personal facts, bank details or credit card information over the phone, online or in an email.
"There are people unfortunately who will take advantage."
The only official fund in operation is the 'Bay of Plenty Care for our Coast Fund', and anyone wanting to make a donation can go to the council website, www.boprc.govt.nz.
Meanwhile, a crane barge is anchored near the wreck of Rena - the first step in resuming container removal as weather improves in the area.
Progress came to a halt after the ship split in two in terrible weather last weekend.
However, it could take some time before container removal would resume or divers, who are on standby, could undertake a survey of the sunken section, said national on-scene commander Rob Service.
"The dynamic sea state and the relative proximity of the reef below make it difficult to indicate any timing for this next stage of container salvage," he said.
Sea conditions are continuing to ease at Astrolabe Reef with swells expected to reduce to 1.5 metres today and one metre tomorrow.
Boaties have been warned to stay off the water unless it is necessary because of a large amount of floating debris.
A three nautical mile exclusion zone also remains around the Astrolabe Reef.
Aerial observation flights to Rena this morning confirmed no change to the state of the wreck, and a light sheen of oil is still leaking from the vessel.
Waihi Beach is free of containers, with 17 taken away for processing.
Helicopters are expected to help with the removal of 11 containers and timber debris from Matakana Island.
Shoreline clean-up assessment teams will be out today checking for any signs of oil in the northern end of Tauranga Harbour, Papamoa East and Pukehina.
One oiled little blue penguin was collected from Papamoa Beach on Friday and, and one recovered offshore from Hahei yesterday.

- APNZ