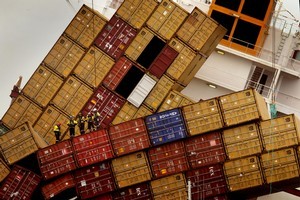 Stricken ship Rena may have split into two pieces after getting pounded by 5m swells this weekend.
The list and the heading of the aft section had changed overnight, which meant it had "possibly" split in two, a Maritime New Zealand spokeswoman said.
This couldn't be confirmed until an aerial overview of the ship had been completed, but bad weather meant this was not able to happen yesterday.
The boat was not moving off the Astrolabe Reef near Tauranga, she said.
Salvage work on the ship was put on hold, but salvors were hoping to make it back on to the ship tomorrow.
- APNZ