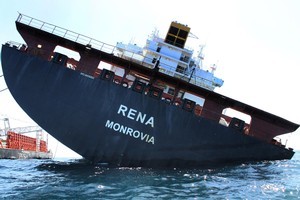 Large swells have put Rena container salvage operations on hold for the past two days, but removal operations were planned to resume later today, Maritime New Zealand (MNZ) says.
Operations were suspended because of 1.5 metre swells around the Astrolabe Reef off the coast of Tauranga, where the Rena has remained grounded since October 5.
Crane barge Smit Borneo, which has been helping with the container removal operation, was repositioning itself to place the bow of the barge into the swell. Once this was completed, hopefully today, it was expected the salvage team could resume removal operations, MNZ said.
Container removal operations would continue as long as weather conditions allowed, MNZ said.
"The weather forecast is for settled weather until 29 December when the wind is expected to increase to around 25 knots. The winds are forecast to ease around 31 December."
So far 341 containers of the original 1368 have been removed from the ship.
The oil spill response team has continued patrolling key areas around Mount Maunganui daily.
The last clean-up operation was held on Christmas Eve and the next was scheduled for December 28 unless any significant reports of oil came through in the meantime.
Members of the public are still being urged to call 0800 OIL SPILL if they see oil on the beaches or in the water.
- APNZ