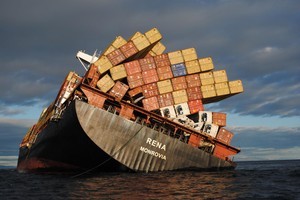 Another 21 containers of undeclared dangerous goods have been found on board the stricken cargo ship Rena off the coast of Tauranga.
Maritime New Zealand (MNZ) initially said there were 11 containers of dangerous goods on board the vessel when it crashed on Astrolabe Reef off Tauranga.
Insurers acting for the Mediterranean Shipping Company, which chartered the vessel, have only now revealed the an extra 21 containers containing a dangerous substance known as cryolite, MNZ said.
MNZ director Catherine Taylor said "for reasons still unknown", the contents of the containers were not declared in an original information given to the agency.
"While experts advise that the contents of these containers are considered low risk in their current state submerged below decks in the vessel's holds, MNZ is carrying out a thorough investigation as to why these dangerous goods were not declared as required under maritime legislation and whether this constitutes a breach of the law."
MNZ said 20 of dangerous containers were in a hold which suffered "considerable damage" when the vessel ran aground.
Of those, 17 were understood to be submerged, though all were likely to have submerged at some time amid the ship's movements.
They contain 490 tonnes of the product cryolite, which is dangerous to humans in its dry form if ingested or inhaled.
Ms Taylor said cryolite on board Rena was considered to be a low risk as the product is only slightly soluble in water, so is expected to dissolve slowly.
Despite that, salvors working aboard the stricken vessel would need to take extra precautions, she said.
"While this late notification is frustrating, it's simply another issue Rena has thrown at us that we have to get on and deal with. It's the typical nature of salvage operations that these sorts of issues will come up, and our plans remain flexible enough to respond to them as they occur."
The Rena was yesterday battered by choppy seas and strong winds.
Those conditions are expected to last until Saturday, increasing fears the "fragile" cracked vessel will break up.