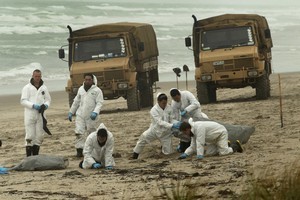 Defence Force personnel deployed to clean up oil from Bay of Plenty beaches have returned to their bases after helping remove more than 992 tonnes of oily waste.
Hundreds of troops have been involved in clean-up efforts since the Rena ran aground on the Astrolabe Reef last month near Tauranga, spilling about 350 tonnes of oil into the sea.
Maritime New Zealand operations manager Scott Read said Defence Force teams had been working tirelessly to clean up the beaches.
"We've had around 487 personnel involved since the response began and we're extremely grateful for their energy and ability to get the job done," he said.
Troops returned to their respective bases and homes on Thursday.
Joint Task Force commander Lieutenant Commander Muzz Kennett said 50 personnel would remain on standby, ready to respond within 24 hours should further help be needed.
The Defence Force has had an average of 120 troops on the ground at any one time and removed around 8.5 tonnes of oily waste in the last 10 days.
Air Force Warrant Officer Steve McCutcheon said it had been messy work but it needed to be done.
The public response had been really positive, he said.
"Even if people don't stop, they yell out 'thank you'. We've had a lot of support from local companies and the community," he said
Iwi liaison officer Mike Borell said feedback from Matakana Island was that the troops were a real pleasure to work alongside.
"They formed good relationships with the whanau of Matakana Island right from the start," he said.
The Defence Force also deployed ships and aircraft to the area.
A team of navy specialists helped to clear and maintain shipping channels, while the navy supplied imagery and information on the Rena's condition.
Seasprite and Iroquois helicopters supported with aerial observation flights, transporting salvage experts to and from Rena, and night search and rescue response standby.
- APNZ