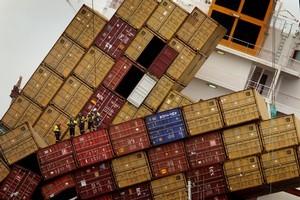 Every container on the Rena will need special care and attention, says Maritime New Zealand salvage unit manager Kenny Crawford. Photo / Alan Gibson
Tauranga residents are being warned that wayward shipping containers could be dragged ashore near their homes as more details emerge over the next step in salvaging the stricken Rena.
And the container ship could be deliberately broken apart so salvors could remove the containers in the vessel's hard-to-reach holds, Maritime New Zealand salvage unit manager Kenny Crawford said.
The job of removing the 1280 containers on the ship, predicted to take several months, began at promising speed after salvors yesterday used a crane to load 15 on to the tug Go Canopus, bringing the number removed to 18.
Officials had earlier said only about three to four containers would be off-loaded each day.
Media representatives watched salvors harnessed to the Rena guide several of the huge containers from the battered ship, which remains on a 22-degree lean.
Mr Crawford told the Herald while the rate "looked pretty good", each of the containers presented a challenge.
"Every container is going to have its own story. And it's not just a case of pick this one, pick that one - they take it step by step."
The job was exhausting for Svitzer's 35 salvors, who were having to carry bulky equipment on listing decks amid the foul smell of rotting food. "It's a real task - these guys' legs are starting to hurt and their ankles are getting really sore - ultimately it's not a comfortable place to be." But despite the dangers it was not a life-threatening situation, he said.
"They're not going to do anything unless it's totally safe to do so."
They have fixed GPS transponders to 220 of the containers most likely to fall and to 10 with hazardous substances.
The 800 containers below decks also had to be retrieved. One hold was submerged and water-logged and Mr Crawford said breaking open the ship was one option when getting to the containers.
If the weather smashed the Rena apart first, he said a priority would be to keep open shipping lanes to the Port of Tauranga, which has estimated it would lose $500,000 for each day it had to close.
Of the 88 containers that have tumbled overboard, just 19 have been recovered.
Those containers off-loaded from the ship were being brought into a special area at the port and those that needed treatment would be taken to Mt Maunganui's waste transfer centre.
But floating containers which could not be recovered by barges would be marshalled on to the beach for collection at Harrisons Cut at Papamoa.
Tauranga City Council was seeking a resource consent for the process and had written to residents in the area, among them David Armstrong.
"After six weeks of waiting for the beaches to be re-opened, it is hardly the news we were expecting," he said.
Mr Armstrong believed the containers started their journey in the port - "and they need to go back to the port".
Tauranga mayor Stuart Crosby said council members would discuss the issue on Monday and could reveal little of the plan, but said any effects of the containers would be "mitigated to a high standard".