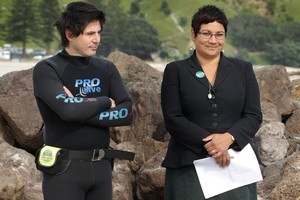 The Green Party has called for ships with local crews who "know New Zealand waters and hazards" under a hard-line oil spill policy announced against the backdrop of the Rena disaster yesterday.
The party has included in its five-point policy "higher standards" for coastal shipping, supporting using local ships and crews.
The stance - echoing the Maritime Union's worries over international flag of convenience vessels - comes after the Liberian-flagged, Filipino-crewed MV Rena hit the Astrolabe Reef on October 5.
The policy also included holding an independent inquiry into the speed of the response to the Rena's grounding, a moratorium on deep sea oil drilling and exploration, a legal safeguard preventing taxpayer liability in spills and more funding for Maritime New Zealand, the small state agency which has borne the brunt of the response.
Wetsuit-clad Gareth Hughes unfurled a banner reading "Love It, Protect It" beneath the Mt Maunganui surf yesterday morning to launch the policy.
This month the MP plunged into a shark tank to highlight the practice of shark finning.
Greens co-leader Metiria Turei said she did not accept the authorities' repeated statement that it acted as quickly as it could have.
"They didn't make sure Maritime New Zealand had the resource it needed to make a quick response - and that was what the public had been really concerned about through the whole disaster."
Ms Turei said the Rena's grounding highlighted New Zealand's vulnerability to oil spills - and she believed the disaster would "make it more difficult for the Government to sell exploration permits to the public".
"We'll also have more funds for Maritime New Zealand for both their daily work and also for their emergency response work because we will ring-fence the fuel levy that boaties currently pay."
All of the estimated $22 million paid annually by boaties in fuel excise tax would go to Maritime New Zealand.
The oil industry's pollution levy would be increased to give Maritime New Zealand money "to purchase and access the resources it needs for a decent oil spill response".
She said more money was being taken from the $4 million oil pollution fund than was being returned to it
Last night a spokeswoman for Mr Joyce said the nationality of the Rena crew was "nothing to do" with the disaster - "two of the significant groundings in New Zealand, the Mikhail Lermontov and the Anatoki had New Zealand pilots when they grounded".
THE POLICY
* A moratorium on deep sea oil drilling and exploration.
* An independent inquiry into the speed of the Government response to the Rena grounding, maritime regulations, and the capacity of maritime services to respond to accidents.
* Higher standards for coastal shipping, supporting the use of local crews and ships.
* Build Maritime New Zealand's oil spill response capability and infrastructure.
* Introduce a stronger legal framework to safeguard taxpayers from clean-up costs.