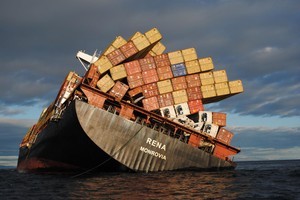 An oil spill response team remains on standby as salvors continue the slow process of pumping oil off the Rena one month after it ran aground.
More than 1000 tonnes of heavy fuel oil has been removed from the ship since it struck the Astrolabe Reef near Tauranga on October 5, but 358 tonnes remains in the ship's submerged starboard five tank.
The remaining fuel oil will be extracted using the hot tapping process, which involves pumping sea water into the tank through a flange fitted to a hole in the ship's deck, raising the oil to the top so it can be pumped out.
Maritime New Zealand salvage unit manager Kenny Crawford said salvors were continuing to pump sea water into the tank this morning and were making good progress.
"It's a slow and steady process," he said.
Salvors were also working to remove oil from the ship's engine room.
A mixture of lubricants, hydraulic oils and heavy fuel oil has been pumped from a number of different tanks around the engine room into a centralised tank.
Salvors began pumping oil from the central tank onto the Awanuia yesterday afternoon, with work continuing overnight and this morning.
Mr Crawford said most of the engine room oils were very light and did not pose the same environmental risk as the heavy fuel oil, which had been the salvage team's priority from day one.
"However, it is important these oils are removed as well _ it's very pleasing to see this progressing so well."
National on-scene commander Alex van Wijngaarden said the oil spill response team was continuing to ensure its readiness to respond to a significant release of oil.
"We have rapid strike teams ready to respond to any reports of oil and we are also continuing to assess shorelines and clean-up where needed."
The last significant leak was on October 22, when between 5-10 tonnes seeped from the vessel.
Salvage company Svitzer was now looking ahead to the next phase of the salvage operation and preparing to remove containers from the vessel.
The crane barge ST60, from Gladstone in Australia, had arrived and would be used to remove containers once the fuel recovery was complete.
- APNZ