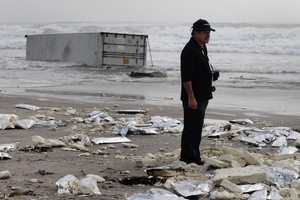 A $360,000 compensation fund has been offered by the Government to small businesses and sole traders hurt by the Rena disaster.
The Rena Support Subsidy, designed to help affected companies to keep paying their staff and available from Monday, includes weekly subsidies of $500 for fulltime workers and $300 for part-timers, over six weeks.
Up to 120 workers in total are believed to be affected.
Eligible companies must operate within or near the exclusion zone surrounding the ship, have less than 20 employees, and must show they have already used any insurance cover and are unable to relocate their operation.
The size of the fund could widen if the scale of the disaster changes.
"It will give them a bit of breathing room which will enable them to regroup, pay some bills, get some advice and training on how to deal with their particular situation, and restructure financially or operationally," Tauranga Chamber of Commerce chief executive Max Mason said.
"It's a good start to enable the worst-affected businesses to review their options while retaining their staff."
Bay of Plenty Fishermen's Association spokesman Brian Kiddie said though most commercial fishers were operating at either normal or limited capacity because they could not access part of their fisheries, some were still struggling.
Other operators who relied on the sea, such as charter companies and surfing schools, would also benefit.
Graeme Butler, who owns Butler's Swim With Dolphins, estimated he had lost between $21,000 and $30,000 in earnings during his idle October.
Meanwhile, scientists are working through the first test results from shellfish. "We now need to confirm whether any of these components are getting into seafood and how quickly they might be getting out," environmental adviser professor Chris Battershill said.