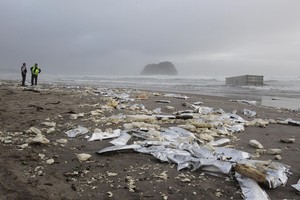 The Rena disaster is proving to be a Jekyll and Hyde experience for Mt Maunganui businesses by packing out restaurants but leaving some business owners worried they won't survive summer.
It has been more than two weeks since Rena ran aground at Astrolabe Reef, spewing oil onto Western Bay of Plenty beaches and prompting politicians to dub the incident New Zealand's worst environmental disaster.
No one can swim or fish in the water.
Staff at Latitude 37 bar and restaurant have been busy.
Owner and operator Craig Cameron said it was a combination of the Rugby World Cup, school holidays and Rena.
"We have a lot of TV crews in regularly and groups of 20. Navy guys have been coming in to watch the rugby and the salvage guys and helicopter guys have been coming in.
Not just once or twice but regularly," Cameron said.
The Rena disaster had brought many people to town, he said, "and they all need to eat somewhere".
"At the moment there are a lot of people in town to do with it."
Cameron anticipated Rena to be cleaned up by Christmas and regular visitors to the area would return.
"If it hasn't been cleared up by then, I'm pretty sure these people will still be here," he said.
But it has not been so easy for other businesses.
New Zealand Surf School's Bjorn Waaling said he was looking at a 70 per cent loss in revenue from Rena.
Out-of-town school trips that had booked lessons during the holidays had been cancelled because of the oil and Waaling estimated Mt Maunganui businesses like his could lose out on at least 30 per cent of annual revenue if things did not improve soon.
"I have at this point 50 per cent of schools cancel.
"They don't just cancel their surf lessons, they cancel their whole Mount trip. No horse riding, no staying in local accommodation, etc," he said. "Business is just trickling down, that's already happening. People don't trust it [the water] and to be honest, I don't trust it."
A friend of Mr Waaling's runs a surf shop in Spain, where an oil spill hit the shores about three years ago.
"Tourism went dead," Waaling said.
The spill was on a much larger scale, affecting about 900km of shoreline.
Waaling said oil continued to wash ashore there for up to six months. It also resurfaced in the sand.
"People look at the beach because it's nice and golden but the oil, it just sits in the sun just under the sand.
"People start lying down on the sand and start scratching because the oil is in it. Sometimes you see a spot."
Waaling estimated it would be at least six to 12 months before things were back to normal.
If more oil leaked from the ship before it could be saved, Waaling said he would be forced to shut up shop.
For now, he was holding out on hope that what has already leaked will be the last of it and Mt Maunganui can recover.
Mount Main Street manager Leanne Brown said there was "every confidence" the beach and the local industry would recover, with hopes it could be as early as Christmas.
"We need to make people aware that the best experts in the world are here with groups of volunteers and support from the defence forces. If more oil comes ashore we will clean it up, and again," she said.
"But there is a lot more to the Bay of Plenty than a beach. Of course, the beach is a drawcard but there is much more to do as well."
Brown said that although there was no doubt the effect from Rena would be felt, "to what extent, we don't know".
"I haven't heard any specific comments [from retailers] other than we are at the moment quite busy with the number of salvage operators in the area," Brown said, adding cruise ships arriving had also helped to buoy local business.
-APNZ
For more articles from this region, go to Bay of Plenty Times