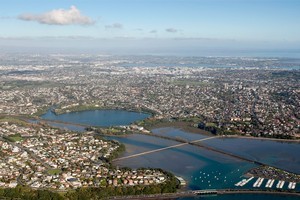 Auckland Mayor Len Brown has voted to stop the Orakei Local Board and the area's residents having any involvement in the final decision on the development plan for the coastal Orakei headland.
Mr Brown decided the legal process for approving a masterplan for Orakei outweighed his election promise for local boards to "be involved in planning and policy related to their communities".
"I am committed to making sure local voices are heard in the Super City," Mr Brown said during his election campaigning.
A plea by Orakei Local Board chairwoman Desley Simpson at Thursday's council meeting for her board to be included in the final decision fell on deaf ears when Mr Brown and a majority of councillors approved the masterplan that provides for about 700 apartments on the waterfront site five minutes from downtown Auckland.
They were acting on advice it was a process-driven decision and a delay could lead to a judicial review.
Said Ms Simpson: "I am about to watch 21 people, none of whom live in the ward, make a decision that will significantly impact on the Orakei community without any opportunity to comment.
"I know this is a legal process and because of that process local board cannot participate in the final decision, but we should at least have been informed. We are not seeing the talk being walked."
More than 90 per cent of submitters opposed a hearing for a joint masterplan between developer Tony Gapes and the former Auckland City Council to build a "seaside village"on 5.9ha of land at Orakei, of which 1.2ha will be open space.
Residents from the northern slopes of Remuera have been battling Mr Gapes for four years over different plans for the headland. Improvements have been made, but residents are still unhappy with the scale of building and the effect of traffic on busy Orakei Rd.
In February, commissioners approved the masterplan, providing the land was in single ownership or a legally enforceable agreement between various land and lease owners.
Transport Minister Steven Joyce has said no deal had been reached about the railway land on the site and the airspace above it.
An attempt by Orakei councillor Cameron Brewer and Waitemata and Gulf councillor Mike Lee to buy three weeks for the Orakei Local Board to absorb the masterplan decision was defeated.
Mr Brewer said co-governance between the governing body and local board had not been good, and Mr Lee said the "phony transit development" around the Orakei train station would exacerbate congestion on the road.
SEASIDE VILLAGE
* Len Brown and the majority of councillors have approved a plan for development of Orakei Point.
* This left the Orakei local board and local residents having no say in the decision.
* Over 90 per cent of submitters opposed a hearing for a joint masterplan between the developer and the former Auckland City Council.
* This proposed to build a "seaside village"on 5.9ha of land at Orakei, of which 1.2ha will be turned into open space.
* 700 apartments would be built as part of the plan.