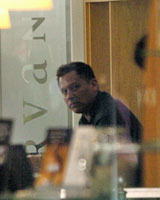 It's been scissors at dawn along Auckland's posh Remuera Rd, with the lucrative coiffures of the locals the ultimate prize.
A spat between two Remuera hair salons has turned so ugly that nine clients caught in the crossfire were subpoenaed by the Employment Relations Authority, and asked whether an irresistible Chilean stylist had taken them with him when he changed salons.
Crossing Remuera Rd, from War Hair Design at number 319, to Nirvana Hair and Beauty at number 328, has ended up costing Danny Dominguez $5000 after the ERA last week found he had breached an agreement to give up clients when he left his job. The row has thrown a curl into the common practice of clients following their hairdressers.
Dominguez has been ordered to pay his former boss at War Hair Design, Rodney Foley, compensation after leaving to work for Nirvana Hair and Beauty. The two salons are just 50 metres apart on opposite sides of the well-heeled Auckland street.
But the dispute doesn't end there. Foley is also taking action against former Nirvana owner Cheryl McDuff, to the tune of $20,000. Her case has been delayed because of medical reasons.
McDuff did not want to comment publicly on the matter, saying only that she had taken Dominguez' word that he was allowed to work for her. She had since been forced to sell the business, she said.
Dominguez left War in acrimonious circumstances last June.
Dominguez said it was common practice for hairdressers to move around and for clients to seek their favourite stylist out. He told the Herald on Sunday he did not approach any former War clients to tell them of his move - but that they had followed him anyway.
Dominguez had signed a contract with War saying that for six months after leaving the business he was not to work at any competitor's salon within a 3km radius, or work on any of War's clients.
He was not to actively solicit any of his clients to follow him to the new business.
Yesterday Dominguez, who was working at Nirvana, said he was unhappy about the ruling but accepted it. "I can't believe the rules in New Zealand. Auckland is a very small place."
Of Foley, he said: "It's a game to him, just a game." He described the experience as "very stressful" and said it had taken a personal and financial toll.
Rodney Foley, who now runs a salon in Kohimarama, said he pursued the matter to make a point. He described the result as "brilliant".
"It's good to see that for a change, someone has taken the word of the employer over the employee."
Foley said he had spent at least $25,000 on the legal fight, far more than he had received from winning it. He said the practice of hairdressers taking clients with them when they changed salons happened on a "hugely regular" basis, and had to be stopped.
"Nobody does anything about it, and people get away with it," he said. "You have to have some form of etiquette and loyalty."
However, Foley indicated he may now be willing to reach a settlement with Cheryl McDuff, as his point had been made. Robin Arthur of the ERA said in his ruling that as English was not Dominguez' first language he might have been confused about the circumstances surrounding his leaving the salon. He also found that Dominguez had spoken to nine clients about continuing to get their hair styled with him after he left for the Nirvana salon.
"His explanation in the case of two women was that they simply 'insisted' he cut their hair, as they did not like anyone else doing so," Arthur said.
However, as Dominguez had signed documents stating he would not work on former clients' hair, he was obliged to turn away such customers for an agreed period of time - and did not.
Arthur ordered Dominguez to pay the owners of War $3217 in damages and $1500 as a contribution to court costs.
By Alice Hudson

Email

Alice