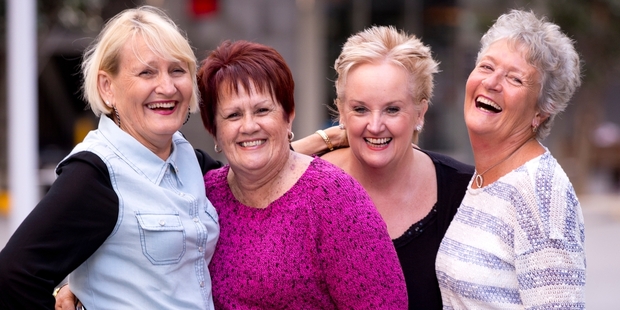 When Sydneysider Deb Griffin and three of her Australian girlfriends spent a day in Auckland in 1974 it was one of those moments that stays with you for the rest of your life.
Perhaps it was because it was one of their last tastes of the freedom of single life.
"That was the last hoorah. After that we were all married," the 60-year-old retiree and grandmother reminisced yesterday, after the quartet arrived in Auckland on a four-day reunion tour.
She and Sue McEnery, of Brisbane - and Shirley Leavey, 61, of Brisbane and Robyn Letson, 62, of Cairns - were two sets of friends who met as young women aged 18 to 21 on a cruise ship.
They boarded the Sitmar Line's Fairsky in Sydney and cruised the Pacific islands before visiting the Bay of Islands and Auckland in November 1974.
Although their memories of a day in the Queen City are hazy - there was lunch in a pub and the hospitality of a group of Auckland rugby league players from the ship who showed them the sights - it left such a deep impression that they want to relive the happy days.
"I think when we met we all had the same values," said Deb Griffin.
"We wanted a good time, but we weren't crazy, we weren't sluts and we weren't drunks. We were out for a good time and we had a really good time.
"We didn't expect to make life-long friends; it's just a bonus."
The reunion trip, which will take the foursome to an anniversary dinner at the Sky Tower tonight, to the Coromandel and on a winery tour of Waiheke Island, was the brainchild of Mrs McEnery, a lotteries employee, grandmother and, at 58, the "baby" of the group.
"Because we have all been separated by distance we don't get together very often. But with Facebook we've reconnected again," Ms McEnery said. But the trip hasn't been all plain sailing for her.
She and her husband "had a few words" about it. "He said to me, 'You didn't ask me could you go', which wasn't a really good thing for him to say. He's retired and has a lot of time on his hands. He gets a bit lonely when I go away."