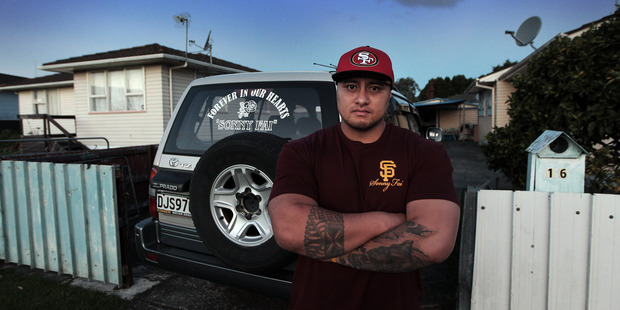 The decal on the back window of the Lafoga family truck is a heart-felt tribute to promising rugby league player Sonny Fai, who perished in the West Auckland surf four years ago.
The mobile memorial is the South Auckland family's way of "keeping the faith" with a loved nephew and cousin who was a part of an extended family where special kinships had grown between relatives.
Sonny's body has never been found, and his 25-year-old cousin Lafoga Faraimo says he is sure his "brother" will one day be returned to the family.
"A lot of people are saying rest in peace but, for us, we're still keeping the faith. It still feels like he's around and just having those sorts of words remind us as well.
"Everyone just has to keep the faith. One day he'll come back."
As well as the memorial decal, the family wears tribute T-shirts and bracelets with a special inscription that reads: "Don't give up, humility, courage and sacrifice".
Lafoga, who narrowly cheated death in the rip at Bethells Beach that claimed the life of his cousin, says it is important to remember the heroism Sonny displayed rescuing his younger brother before he was swept out to sea.
Speaking for the first time since the tragedy, he says the group was quickly dragged out to sea by a strong rip. He tried to swim out to rescue his cousins but Sonny told him emphatically to get back to shore: "He was going to save Gillesbie."
Lafoga says it feels like Sonny is still around.
"Every day I think about him. It always feels like he's around and it's just our own reminders. It's just hard to forget him. I take courage from him. That's why we have it on the back of the vehicles, to show our faith we have."
He also has a portrait of Sonny tattooed on his chest. And while it is difficult to admit his best friend is no longer alive, he is inspired to turn the tragedy into something positive. "He's given me a better reason to live life."