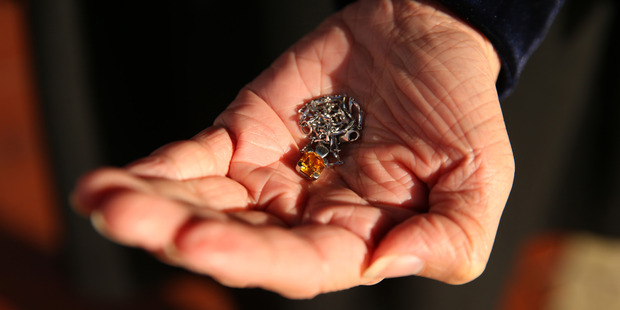 Auckland woman Michelle often seeks solace and guidance from the 2.0 carat diamond fashioned from the remains of her late husband.
The princess-cut man-made sparkling gem is a lasting memento of husband Alex, who died of cancer just before his 36th birthday in 2011.
The DNA jewels are custom-made in a laboratory in Europe using a personal carbon source such as hair or ashes.
They take around 70 days to make and range in size from 0.25 carats through to 2.0 carats. The colourful diamonds can be set into rings, bracelets, earrings or worn as a pendant.
The mother of two young boys says the cognac-coloured diamond necklace is her way of honouring the man she loved and a beautiful keepsake of his life.
"I wear it every day. In fact, I hardly take it off."
Her mother-in-law has a matching rectangle-cut 2.0 carat diamond and further remains were made into heirloom glass bowls for her young sons and brother-in-law.
Michelle says the jewellery is especially meaningful to her late husband's mother, providing a source of great comfort after her loss. "She sometimes hears my husband talking to her."
But for the newly widowed Michelle, her late husband's diamond has become a tangible way to include him in helping raise their two sons.
"It just lessens the burden of making hard decisions when you are parenting on your own. I just touch the diamond and talk to my husband and ask him what to do. I feel mentally it helps enormously."