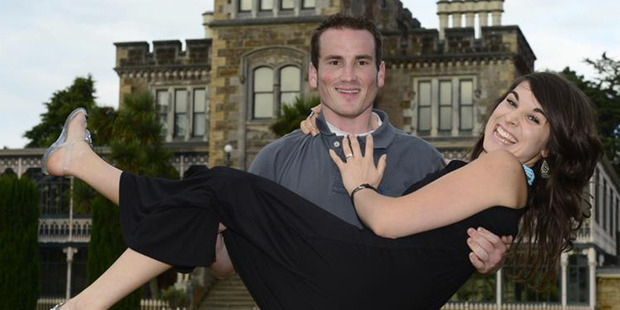 A descendant of William Larnach had long dreamed she would be proposed to at Dunedin's Larnach's Castle, but until Saturday thought it would never actually happen.
Fleur Allen, 25, of Palmerston North, who is William Larnach's "great-great-great-great-granddaughter", had no hesitation saying yes when Matthew Weathers, 27, of the United States, asked her for her hand in marriage atop the tower at Larnach's Castle on Saturday.
Ms Allen said she always had a Larnach's Castle proposal in the back of her mind "even as a kid", but thought it "would never happen".
The proposal came as a "complete surprise", with Mr Weathers employing a bit of subterfuge - with the help of Ms Allen's family - to make sure it was unexpected.
He even had her believing it was her idea to fly to Dunedin and visit the castle.
Mr Weather, who teaches English in China, said he got the idea to propose at the castle from Ms Allen's parents. He picked the tower, overlooking Otago Peninsula, as the place to say the words.
"I asked her to turn around and look at the sea because I wanted to read a poem to her and I proposed within the lyrics of the poem I wrote. She immediately and thankfully accepted the proposal," he said.
He wanted to thank Ms Allen's family and the staff at the castle for helping make "the day as special as it was".
The proposal came after a whirlwind romance, with the pair - who first met in the United States in 2006 - only becoming a couple in November.
The pair hoped to tie the knot in July in the US.