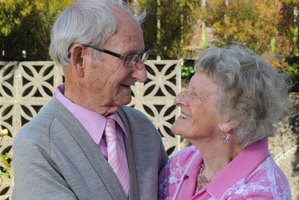 A bungy-jumping granny and her former Navy husband say an active life together is the secret to long-lasting love.
"I've been on jet-boats, bungy jumps - everything Queenstown has to offer," said 88-year-old Dorothy Inglis, who recently threw herself off Auckland's Sky Tower bungy jump.
"It makes me happy and [husband] Peter always waits for me."
But had she decided to walk left at an intersection instead of right while doing a spot of shopping nearly 70 years ago, she might not have met the love of her life.
The Dunedin-born couple celebrated their 65th wedding anniversary yesterday[21/01] and fondly recalled their chance meeting on a Wellington street in their youth.
Mrs Inglis, 88, said she had just moved to the capital and had been working at a nurses' home when she decided a spot of shopping was in order.
"On my day off, I decided to go and find some shops - I absolutely love shopping. I was 21 and I had never been to Wellington before."
Mr Inglis, 90, was on shore leave from his work on a navy mine-sweeping vessel.
Mrs Inglis said she was looking in shop windows when she first noticed Mr Inglis.
"He was in a navy uniform and he was the most handsome sailor I had ever seen.
"He said right there and then: 'Can I see you on Saturday night?'
"We agreed to meet at a dance. I didn't think he would turn up, but he did."
And the rest is history.
The couple married at the Church of Christ Community in Dunedin on January 21, 1948, and went on to have three children. They have five grandchildren and three great-grandchildren - with a fourth on the way.
The couple are still young at heart and believe the secret to a long and happy marriage is to keep busy.
"We're always going out dancing, going to the clubs, housie, visiting family," Mrs Inglis said.
"Having an active life keeps you young.
"It's also important to have common interests. We both love dancing, gardening, socialising and travelling."
Mr Inglis said they were members of several travel clubs which visited different locations around New Zealand each year.
Perhaps unsurprisingly, they both still love going shopping together.
"You've got to get rid of your money somehow," Mr Inglis joked.
The couple believe making each other happy, looking after each other and being supportive of each other had been key to their successful marriage, to the point where Mr Inglis can often be seen waiting patiently for his wife to do daredevil activities such as her recent bungy jump off the Auckland Sky Tower.
"People who have a nice kind nature - you can't help but have a long marriage when you're married to a man like that," Mrs Inglis said.
The couple celebrated their anniversary with a dinner for two at a Dunedin restaurant last night.