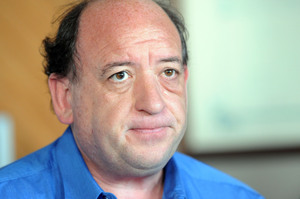 Embattled mine boss Peter Whittall has been blasted by his estranged wife after speaking about his new relationship.
The former Pike River Mine head confirmed last week his marriage had broken up and he had moved in with former Pike finance controller Angela Horne.
His upset wife Leanne Whittall told the Herald on Sunday this week of her bitterness after standing by Whittall in the weeks following the mining disaster, which claimed the lives of 29 men in November 2010.
"It was devastating," she said.
Leanne said her husband left her on Mothers' Day last year and she could only hope his claims, that the new relationship had begun only after the separation, were true. It worried her.
"Being trusting as I was, you trust your husband ."
Leanne said she regretted supporting Whittall following the explosion. She has returned to live in Australia.
"I was there and I did it for the community of Greymouth because they were my community for several years and it was important I was there for them.
"I have to balance that in my life now and say 'if I did some good for someone in Greymouth then that's a good thing'. I really love the Coast and I miss them very much."
Horne's estranged husband, Peter Toms, also expressed anger.
"While I was at home looking after our kids, cooking dinner and supporting her, she was ... working late every night and weekends," he said.
"Even if it hadn't been a physical relationship it was definitely an emotional one."
Toms said he had refused to allow his children, aged 7 and 3, to be taken to Australia.
"We were together for 21 years and married for 17. I mean he's hardly George Clooney and if someone had told me I would never have thought it."
Whittall's lawyer, Stacey Shortall, responded to questions: "Mr Whittall and Ms Horne are private people. They would be unknown to most people in this country had Mr Whittall not been chief executive officer at Pike River at the time of the tragic explosion in November 2010.
"When thrust into the limelight to front the tragedy for Pike River, Mr Whittall did not seek to make public his private life. He continues to seek to shield his family, especially the children involved, from public speculation. Particularly for the sake of those children, Mr Whittall does not consider it appropriate to make any further comment and asks that privacy be respected."