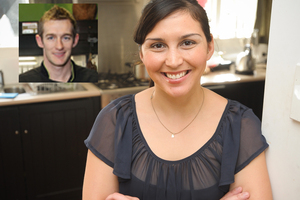 Masterchef lovebirds Matt Gilray and Andrea Bathgate have called time on their relationship after meeting on the show last year.
The couple had hoped to rekindle the romance, despite living in Auckland and Christchurch.
But Bathgate has taken up a $10,000 scholarship to study at Wellington's exclusive new cookery school Le Cordon Bleu, so they decided that there wasn't time to pursue their romance.
The day after his eviction this week from MasterChef, they met in Auckland for a coffee and decided to finish the fleeting relationship.
"I know that, when I'm in Wellington, I'm going to be busy. I want to focus on my future career," said Bathgate. "It's going to be hard but I have to follow what I want to do."
She will leave her job as a nurse at Auckland's Starship Hospital to take up the scholarship in October.
Le Cordon Bleu, which has schools in 30 countries, charges $30,000 for a nine-month term.
Bathgate said Gilray, a Christchurch butcher, was relieved to be off the show.
"I think he's happy that he doesn't have to worry about how he's going to be portrayed on TV. We can relax and just move on."