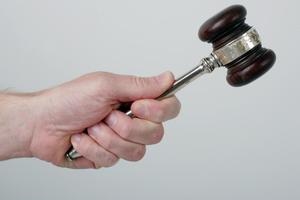 A man who attacked his ex-girlfriend then ran her down with a car has been sentenced to nine months' home detention.
The woman required surgery and had a metal plate inserted into her broken collarbone after the attack.
Rowan Thornton, 23, of Masterton, was sentenced in Masterton District Court yesterday.
Judge Tony Walsh told him: "You may well have been facing a charge of murder or manslaughter for what you did that night.''
Thornton had pleaded guilty to injuring with reckless disregard for safety, assault with a vehicle and wilful damage.
Judge Walsh said the assault began when Thornton was at a party with the victim in April last year.
He walked past her, elbowed her in the back, then walked past again and kicked her in the leg.
Later, about 1am the next day, Thornton went to the woman's house and threw a brick through the back window of her car.
The victim was not home, but hearing that Thornton was there, went to the address with a friend.
On arriving, Thornton parked his car alongside them, got out and chased the victim as she ran in the other direction.
Thornton tackled the woman, slamming her into a nearby fence, and then kicked and punched her on the ground.
She was left with a broken collarbone, grazes to her knees and bruising to her lower back.
Thornton returned to his car and drove at the woman, whose friend had helped her to her feet,knocking both to the ground.
Judge Walsh said:
"Violence of this nature, which is uncontrolled, must be denounced.''
The judge ordered domestic violence counselling.
He also disqualified Thornton from driving for 12 months, and ordered him to pay the victim $2000 in emotional harm reparation, at $50 a week.
For more articles from this region, go to Wairarapa Times-Age