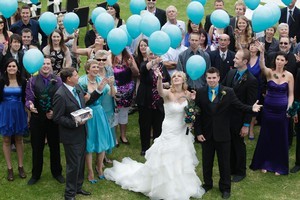 Two daughters - one lost in a brutal murder and the other planning her dream wedding.
That was the reality for the family of murdered Auckland teenager Christie Marceau this week, a bittersweet moment for her parents Brian and Tracey and her older sister Heather.
Yesterday the 18-year-old should have been doing her duty as maid of honour at Heather's wedding. But instead of watching Christie walk down the aisle in front of her, all Heather had left was a pendant holding some of Christie's ashes.
Four days earlier Heather and her fiance Luke Mellor had joined Mr and Mrs Marceau for the launch of the Christie's Law campaign. The man charged with murdering Christie in November was on bail when she died, facing a charge of kidnapping her.
The Marceaus have teamed up with the Sensible Sentencing Trust in a bid to have the country's bail laws tightened to prevent other families suffering through similar tragedy.
They say if the bail laws were tougher, Christie would still be alive.
"We should have been bringing Christie back for a wedding ... but instead we bring back her ashes, that's all we've got," said Mrs Marceau.
"This week has been up and down. We know this is the only chance we will ever have to see our daughter walk down the aisle. We're never going to see that again."
In a poignant moment before the ceremony yesterday, Mr Marceau walked up the aisle with Christie's ashes.
Mrs Marceau then held the ashes tightly, sobbing for a moment as the enormity of the day hit her.
Just before the bride appeared, several helium balloons - in turquoise, Christie's favourite colour - popped loudly and Mrs Marceau's tears turned to a smile.
"That was Christie," Mrs Marceau laughed.
Just weeks before she died Christie had been prancing around in the veil her mother had worn at her own wedding. She was "so excited" about the wedding and Heather was steadfast that they would still walk down the aisle together.
She battled with how much of her big day she should dedicate to Christie. She didn't want to do too much, and have sadness take over the day. But she felt guilty at the thought of doing too little.
"I just tried really hard to make sure Christie was still part of everything," she said.
"After Christie passed lots of people asked if we would postpone the wedding. I didn't even think about the wedding after everything happened to be honest. But I said - Christie knows what day to turn up, and what time to turn up, and she'll be there.
"It's what Christie would have wanted, she'd still want me to go ahead."
Heather admitted there was a moment where she gave Luke "an out", and said he was free to go if it was all too much for him.
But the couple stuck to the plan, the plan Christie was still very much part of.
The Marceaus have matching tattoos of Christie on their shoulders. Heather's was visible above her strapless wedding dress and she was proud to show it off.
After they were married guests, including Rebecca Templeman, the mother of Kerikeri murder victim Liberty Templeman, released the balloons and watched as they drifted off into the distance. The Marceaus hugged, and smiled as they remembered Christie.
Mr and Mrs Marceau said it was a tough day, but they wanted it to be about Heather and Luke and their new life together. They shed a few tears yesterday, but their pain was masked by pride.
"I stressed to Heather that it was still her day. As much as it was nice that Christie was part of it, it was still her day," Mrs Marceau said.
Heather said she would take Mellor as a last name, but will keep Marceau as a second middle name in memory of Christie.
"And my first daughter will have Christie as her middle name," she said.
Campaign donations
Christie's Law Trust at Westpac, account number 03-0275-0644809-00 or phone 0900 723 369.