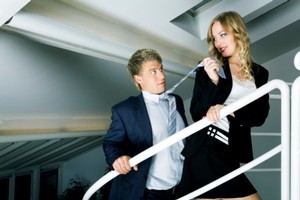 Maybe its stolen glances from behind computers or flirting while discussing the weather at the water-cooler - whatever it is, it's getting New Zealand white-collar workers hot under the collar.
Almost a third of Kiwis have admitted having a sexual rendezvous in the office according to a new Valentine's Day survey.
In fact employers may be left in the lurch with almost a fifth, 19 per cent, intending to sneak out of the office today for a quickie on the so-called "most romantic day of the year''.
More than a 1000 people answered the online survey by condom manufacturer Durex about how they wanted to celebrate February 14. But not everyone even remembers it, with a quarter saying they had let it pass them by at some stage.
Respondents were also asked about what they hoped to be given today. Chocolate, always a favourite, trailed in popularity with only six per cent hoping to receive it - although over half expected to consume the sweet treat regardless.
About half hoped to be treated to a weekend away with their partner if they were to receive a traditional Valentine's Day gift.
For those who are disappointed by what their lover gives them today, don't worry, you're not alone - five per cent of people have re-gifted a Valentine's Day present.
NZ HERALD