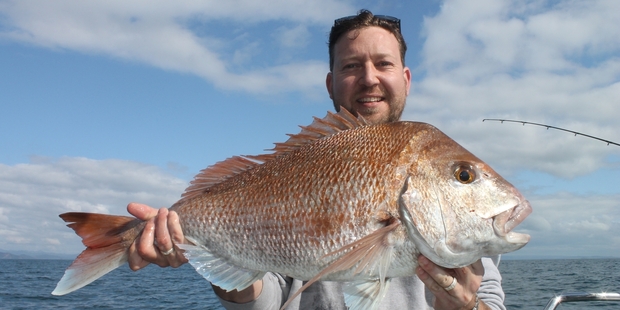 Big snapper - that is the buzz at the moment. And they are not far away. Auckland fisherman Paul Green, who fishes out of Half Moon Bay, reported his first "twenty pounder" of the summer season last weekend. He nailed the 9kg snapper between Waiheke and Rakino islands.
Another monster of 12.3kg came from the mussel farms in the Firth of Thames recently, caught by a local fisherman from Kaiaua.
On the west coast, a lot of good-sized snapper are being picked up at anywhere between 40m and 60m. Fishing is different on that side. With no islands and reefs creating channels and structure, it is a question of finding the fish somewhere on an extensive flat seabed. The schools of snapper will be attracted to features like shellfish or worm beds, so local knowledge is always paramount. Otherwise you look for sign on the depth sounder - schools of bait fish in midwater or fish sign on the bottom.
Elsewhere fishing has also picked up. Snapper are in close around Auckland.
Channels like the Sargent and Motuihe are producing fish, mainly males which turn up first. The females are still around the 35-metre mark in any numbers. One spot that usually fishes well at this time of year when the males are gathering together for the snapper equivalent of a stag party is the shellfish beds off the eastern side of Rakino in about 18m.
Kingfish have also moved in and the first bronze whalers are also turning up, which is early for both species. A king of 30kg was caught at the back of the Noises, and fish up to 20kg are coming from the reef at Crusoe Rock, so they will also probably be around the bottom end of Waiheke, also at Gannet Rock and the Pakatoa Reef. There are two main methods of targeting kings - either setting live a bait under a balloon from an anchored boat, with another hard on the bottom anchored to a break-away sinker. Or, it can be slow-trolled with a hook through the point of the top jaw, or bridle-rigged.
The first bronze whaler sharks are being hooked off Musick Point and Bucklands Beach so the big females which come into the shallows to have their live young, will not be far away.
Divers on the scallop beds off the Noises in 13-15 metres report extensive dredge marks suggesting commercial dredgers have been operating there, perhaps at night. They say it has made it hard finding legal-sized scallops.
Freshwater
Anglers are Lake Taupo are waiting for the smelting to start, and harling with small smelt patterns should only get better. Warm weather has sparked more insect activity, with better fishing on lakes like Otamangakau, Kurutau and Rotoaira as a result. Either slow harling or casting nymphs around the weed beds are the favoured methods. The Tongariro River is reported to be packed with fish after much-improved spawning season this year. Nymphing will produce more kelts which are recovering from spawning, while wet-liners are more likely to strike fresh-run trout.
Tip of the week
Big snapper can be caught on fillets of bonito or kahawai, pilchards and squid, but your chances are much better with fresh bait. Whole fish like piper or yellowtails are prime baits and can be fished either alive or dead. Plenty of berley in a continuous trail is also important. Bite timesBite times are 6.20am and 6.45pm today, and tomorrow at 7.10am and 7.30pm. These are based on the moon phase and position, not tides, so apply to the whole country.
More fishing action can be found on Rheem Outdoors with Geoff, 6.30am Saturdays, TV3, and at www.GTTackle.co.nz.