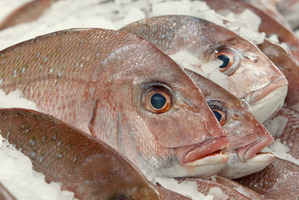 The cart has come before the horse in the proposal from the Ministry of Primary Industries to reduce recreational fishers' snapper limit. The ministry has not attempted to factor in the commercial dumping of snapper.
There is no system of recording just how many snapper are not landed because commercial fishers are over their quota. Snapper can be brought in and landed by boats over their quota but there is a cost, I'm told, of $22 per kilogram. It is cheaper to simply dump the extra snapper over the side.
The other factor to be considered is the wastage of juvenile snapper by the fishing methods of trawling and Danish seining. During this type of fishing process, juvenile snapper can be damaged beyond recovery or simply crushed in the nets. So before the Minister of Primary Industries looks at reducing recreational bag limits, perhaps he should do a study of the wastage by commercial methods.
Recreational fishing didn't take off as an industry in its own right until around 1986. Previously there were many land-based fishing clubs, people who fished from the shore and recreational boat fishing in runabouts not capable of travelling safely far off shore.
Today many thousands of people enjoy recreational fishing and, according to a 1990s survey, a third went fishing an average of seven days a year. Those recreational anglers generated well over $1 billion, and that was over 15 years ago.
The recreational fishing industry has created many jobs in a variety of areas that support the industry; fishers who travel and costs associated with that, boat building, fuel and running costs for vehicles and boats, retail of recreational fishers merchandise, clothing, and the list goes on and on. It would be interesting to see which sector, commercial or recreational, actually employed the most.
Many people who enjoy fishing just want to catch a meal. It's been said that in the SNA1 area (from Northland to the Bay of Plenty) most people who go out for a day's fishing catch snapper between the minimum 27cm and 32cm.
Most recreational fishers work at least five days a week.
When I go fishing during the normal working week, I can usually only count about 10 other boats out there at the same time. I've never seen people fishing from the shore during the working week.
That leaves 52 weekends. Of those, 26 are the winter months and the cold keeps the average angler at home. Of those remaining 26 weekends, the weather is too treacherous to fish on at least 12 of those. Then we have the three week summer holiday season in January. Because of the timing of the snapper season, January is not usually a very productive time to be catching snapper.
So to say that recreational fishers are responsible for the total collapse of the SNA1 snapper fishery can only be really looked at as some sort of agenda by those in the commercial sector with the ear of the Government to increase the available snapper to the commercial sector. You'll note there is no intention to reduce the commercial snapper quota at all.
We have a right to be able to catch snapper to feed our families, the recreational snapper catch bag shouldn't have been up for consideration at all.
If it must be, a study of the commercial dumping and damage to juvenile snapper in SNA1 should be made public first, and systems put in place to remedy that.
It may be that the tonnage dumped is equal to the amount of snapper caught by recreational fishers - wouldn't that be interesting.
Bill Hohepa is a fisherman and leading fishing writer.